January 16, 2020
Posted by:

Olivia

Category:

Uncategorized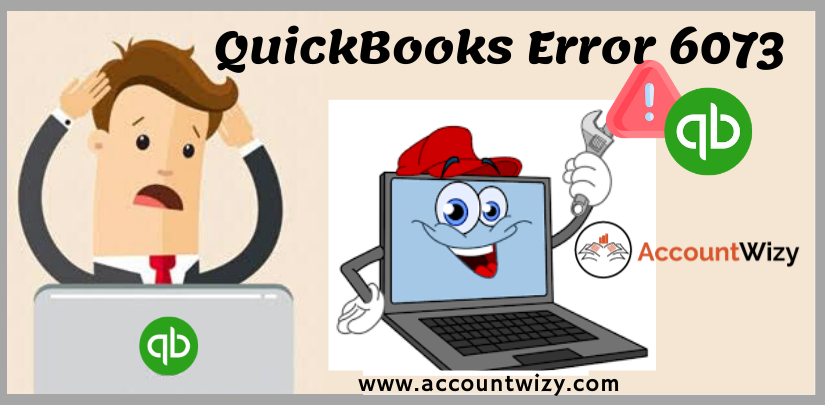 (Last Updated On: February 15, 2020)
Have you also faced QuickBooks error code 6073 and want to resolve it quickly? Then, you are visiting in the right place because here you will get the solution to get rid of this QuickBooks error. Usually, this error occurs when a user tries to open their company file in QuickBooks software. This is not a big problem but it will not be resolved by you Quickly then it creates a big problem. So take a long breath and without any stress follow these simple steps to fix this error. But there is left one thing, whenever you encounter any error try to understand that error pop-up message and know causes. If you know Why does a QB error attack on your QuickBooks? Then follow some instructions based on a reasonable solution.
Causes of error 6073 in QuickBooks
When you are trying to open your company file and suddenly you face this error message "QuickBooks is unable to open this company file…switch to multi-user mode….". Then, There would be many causes such as:
Your file could be located in a read-only network folder.
Might be Your company file are already open on another computer at the same time in single-user mode.
Your file could be access by using remort software and the system perceives that you logged in.
Might be network data files are corrupt.
A renamed data file with a different extension.
If your file is hosted on a Linux server then using more than one set of login credentials to sign on to the shared folder.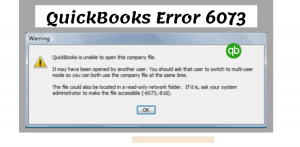 Fix QuickBooks error 6073
As you have known the causes of this error. Then its time to resolve the error by determining its causes. There are many solutions to fix this error but the first solution is most useful to solve it because it is related to company file and network issues so it's fixed by QuickBooks File Doctor or hub tool file of QuickBooks. let's follow some solution step by step.
Solution1:- Use QuickBooks Tool Hub
Whenever you use the QB doctor tools hub file, close your QuickBooks.
Then, you need need to download QuickBooks Tool Hub.
After it, Save this tool hub file where you can find it quickly as Window Desktop.
Now, click twice on this downloaded file(QuickBooksToolHub.exe).
Then, you need to follow some instructions that appear on the on-screen to install the hub file.
After that, click on agree to the terms and conditions.
Wait for a few minutes to finish the installation process and then click twice on the tool hub icon on your Windows desktop to open the QuickBooks tool hub.
Now, click on the Home icon then choose QuickBooks Tool Hub.
Click on the Company File Issues in the tools hub.
Then, choose Run QuickBooks File Doctor. Wait for a few minutes to open the Doctor tool file.
When the QB File Doctor window opens then choose your company file from the drop-down Option Or choose to browse and search to find your company file.
Now, click on the middle Checkbox to your file and then choose the Continue option.
After that, Enter the admin password of your QB then chooses the Next option.
Solution2:  Company file opened in Single User mode in another workstation
When your company file is not opened in the single-user mode because of it open in another workstation. then follow solution2.
First, you need to close your QB desktop on all computers.
On the Host computer, try to open your company file.
Then, choose the File menu and click Switch to the Multi-user mode option.
If QuickBooks error 6073 is existing here then you need to reboot your all workstations.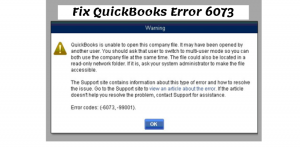 Solution3: Company file open in single-user mode
If your company files open in single-user mode on the host computer then you need to click the File menu.
Then, choose the Close company option.
After that, you need to Re-open your company file.
Then, again click on the File menu and then choose the Open option or Restore Company option.
Now, choose Open a company file and then click on Next.
After it, you need to choose your company file and t Open file in multi-user mode
At last, click on the Open option.
Solution4: Company file located in a Read-only network Folder
If your company files are located in a read-only network older then you need to follow solution 4 to fix Quickbooks error 6073.
Firstly, you need to open the Host computer that is hosting your company file.
Then, click on that network folder where you saved your company file.
After it, Right-click the network folder and choose Properties option.
Then, choose the Security tab then click on that login user.
Now, click on the Edit option and choose Checkbox to allow for Full control.
At last, choose Apply and click on the OK option.
Solution5: Your computer is accessed remotely
If you encounter QB error 6073 when your computer accessed by remotely via GoToMyPC, LogMeIn and so on. Then follow this solution to fix t.
Run QuickBooks Tool hub and follow solution1 to download and install the tool hub.
Then, Click on Program problem option–>click on Quick Fix my program.
At last, Restart your QB desktop and company file.
There are many solutions to fix error 6073 in QuickBooks that given by our experts. According to the above reasonable solution follow that instruction to fix QuickBooks error code 6073 and get rid of this problem. After following the above solution, we sure you can open your company file without encounter any QuickBooks error. While using this powerful Intuit QuickBooks software, sometimes you encounter QuickBooks errors then visit here anytime to fix QB error by using our expert solutions.
 Read more…