January 14, 2020
Posted by:

Olivia

Category:

Uncategorized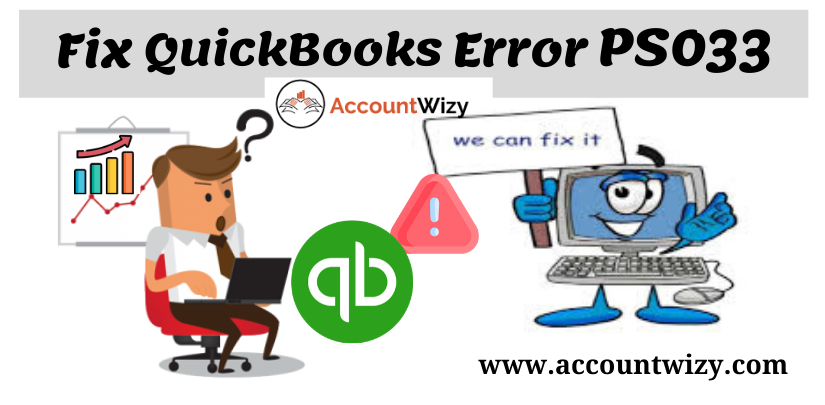 (Last Updated On: February 15, 2020)
Do you want to solve QuickBooks error ps033 quickly? Then don't forget to read the error message properly because it indicates some instructions such as a damaged company file or incorrect service key on your computer. Sometimes QuickBooks users face this error because of the damaged file of the CPS folder or outdated QuickBooks software that's why users can not open their company files.
You also see this message on error pop-up – "Error ps033: QuickBooks can't read your payroll setup".
There would be many causes of Ps033 error such as:
Damaged and corrupted files of the CPS folder.
The renamed file of the CPS folder.
QuickBooks payroll subscription might be deactivated.
Damaged QuickBooks desktop files.
Might be incorrect (EIN) Employer Identification number.
More than one active payroll in the inactive DDA(Direct deposit agreement).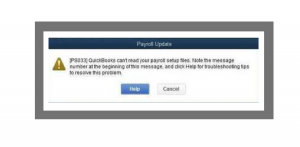 Fix QuickBooks payroll error ps033
Whenever you encounter ps033 error in QuickBooks then ensure that you have active payroll subscription and downloaded the latest payroll tax table. If Subscription deactivates or outdated payroll tax table then you need to resolve error quickly by using the expert solution. Below we mention all possible solutions to resolve the error.
Solution(1)- Download and Update the latest payroll tax table
Open QuickBooks then click the Employees tab.
Second, choose to Get Payroll Updates option.
Now, click on Download the entire payroll update to the latest update.
After that, click on the Update tab.
 Solution(2)- Rename CPS folder of QuickBooks
First, C:\Program Files\Intuit\QuickBooks 20XX\Components\Payroll\CPS. Note that XX is the version of QuickBooks like- QB2017 or 2018.
Second, click on Rename the CPS folder to CP SOLD.
Then, choose to Update the QuickBooks payroll tax table.
Solution(3)- Turn off User Account Control
You need to click on the Start window then type Run or press Windows+R.
Second, type Control Panel in the Run window and then OK.
After that, click on the User Accounts tab then Choose User Accounts-Classic View.
Then, Change user account control settings and move the slider to turn UAC OFF.
Restart the computer and check QuickBooks error ps033 fixed or not. If not then moe on the next solution.
Solution(4): Rebuild data & Verify data
Open QuickBooks then click n File tab.
Second, Choose the Utility option.
Then click on Rebuild Data.
After it, appear a warning message to backup, click Ok option.
Then, select the location on your desktop to save your backup company file.
Now, press enter key on Ok option to save it.
Wait for a few minutes, choose Ok and get Rebuild has completed.
Now, you need to Verify the data to check the remaining damaged data.
Again click on File tab then Utility Option.
Then, Choose Verify Data.
If here you can not find any error then restore a backup.
Click on the File option then choose the Restore option. (Don't overwrite existing company file).
Solution(5)-Update Quickbooks Desktop
First, you need to close QuickBooks and company files.
Then, open the Start menu.
Type QuickBooks Desktop in the search box then right click on QB desktop icon and choose Run as Administrator.
After that, No company Option on the screen then F2 or open Help menu.
Then, click on Update QuickBooks then choose the Options tab.
After it, Select Mark all Option and choose Save.
Now, click on Update now tab then Reset update checkbox ad Get updates.
Wait for a few minutes to finish the process of the latest updates.
After a close and reopen the process and choose Ok to install updates.
At last, Restart your PC/Computer in Save mode and update the QB payroll tax table.
Last Words
As you read these above solutions to fix QuickBooks error ps033. We sure one of these solutions helps you to get rid of this Quickbooks error. And try to use the latest updates of QuickBooks features then you will not encounter QB error. Whenever you face any error related to accounting and QuickBooks, visit here to get the best solution and expert advice through our blog section.
 Read more…