QuickBooks Pro – Best QuickBooks Desktop Product!
May 2, 2019
Posted by:

Editor Team

Category:

QuickBooks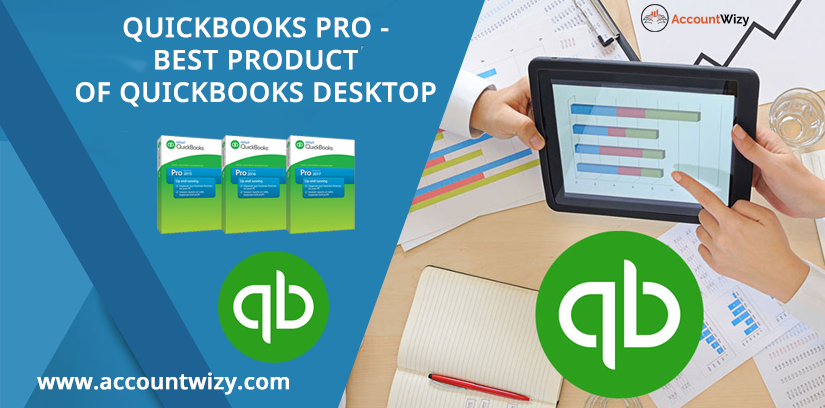 Being the regular client of AccountWizy, you have learned about the QuickBooks accounting software and its products. QuickBooks Desktop App is one of the most popular names in accounting that offers you an incredible number of features, and tons of reports as well as integrations. Today, you will get a clear vision about QuickBooks Pro – Best QuickBooks Desktop Product!
QuickBooks Desktop has three products: QuickBooks Pro, QuickBooks Premier, and QuickBooks Enterprise. All of these desktop accounting programs are similar in terms of the UI organization and design. But they vary when we talk about their features, pricing, business type, and size. Now it comes to making the right choice among all the QuickBooks Desktop products.
Although many users of QuickBooks simple accounting software prefer to use the online version of the product but still out of 100, 20-30 percent still prefer the QuickBooks version for Desktop. Both Pro and Premier are excellent products just like this best accounting software. Here we will talk about QuickBooks Pro version of Desktop.
What is QuickBooks Pro?

QuickBooks Pro is a locally-installed program of QuickBooks Desktop but it requires internet access for certain functions like payroll. If you are willing to buy QuickBooks cloud-hosting, you can get it at an additional cost.
Its license is valid for three years after which you won't get any support from Intuit for the product. No doubt that you can still use the software after this validation period, but in case of any issue, you won't get any QuickBooks support from the Intuit official team. This Desktop product is a single user license and is locally-installed.
You can install it on atmost three computers. You have to create three individual company files due to which your QuickBooks company file data unable to sync from a computer to other.
QuickBooks Pro Pricing
When it comes to buying QuickBooks Pro, you have two options. Either you can purchase a single QuickBooks Pro license or you can go for an annual subscription known as QuickBooks Pro Plus or QuickBooks Desktop Pro Plus.
Now you might be thinking what is the difference between a license and the subscription. Basically, the difference lies in the QuickBooks pricing of these products. For further price details or any query, contact our QuickBooks customer service team.
Hardware & Software Requirements
This Desktop product is only compatible with Windows versions 7, 8.1, and 10, Windows Vista, and Windows Server 2008 (SP1 or SP2), 2012 (R2), or 2016. Some particular features require Microsoft Word or Microsoft Excel. Features which require internet access are only available for those whose system has Internet Explorer 11.
Other hardware requirements include:
2.4 GHz processor
4 GB RAM (at least), 8 GB RAM (suggested)
CD-ROM drive (for CD installations)
1280 x 1024 screen resolution
Features of QuickBooks Desktop Pro
Keep business organized and simplify your life: Get everything in one place whether it's about overdue items, payment bills, and notes from your QuickBooks online accountant.
Cash flow improvement: Real-time visibility of invoice statuses maintaining expedite collections at the top of your cash flow.
Know the position of your business: Observe your action in a single click in order. Doing this, you can have a look at profit & loss statements, top customer lists, and many more.
Other Features:
Invoices and estimates
Contact management
Expense tracking
Journal entries
Chart of accounts
Accounts payable
Inventory
Project management
Time tracking
Reports
Budgeting
Tax support
If you want to enjoy the QuickBooks payroll feature in this desktop product, dial our QuickBooks Payroll Support number. Next comes the advantages of QuickBooks Pro. Scroll the page to know how QuickBooks Pro – Best QuickBooks Desktop Product?
How QuickBooks Pro – Best QuickBooks Desktop Product?
It is one of the simple, robust, reliable, and powerful solutions solving the following small-business accounting needs:
It supports almost three users at a time in a data file
Receivables and revenue
Payables and expenditures such as purchase orders, item receipts, pay bills
Job Costing
QuickBooks Inventory part tracking
Time and mileage tracking
Banking activities like deposits, checks, credit card charges, credits, bank charges, interest, paychecks, online banking, bank reconciliation
Sales tax: collect and pay sales tax
Multiple currencies
Price levels
Reports consisting of budgets, robust operational and financial reporting
Miscellaneous: create letters and labels, memorize reports and transactions, customize templates, experience good user security/access, email transactions with documents attached, etc.
There are many QuickBooks professional advisors who can lift this product beyond its fundamental boundaries with so many workarounds. Not only the professionals but also a mid-market company use it to satisfy 80% of its daily needs.
Is It Possible To Install QuickBooks Desktop Pro On Multiple PCs?
The answer to this question "Is It Possible To Install QuickBooks Desktop Pro On Multiple PCs?" is obviously yes! Before going on the whole description, let's first talk about the need for installing QuickBooks Desktop Pro on multiple systems. Being the best accounting software, QuickBooks provides single as well as multi-user access in order to enable businesses to track income and expenses going into the roots required for complete control of company finances.
But the number of PCs where you will install the QuickBooks depends on the terms and conditions of your license. If an organization and business have a large number of employees who require QuickBooks access, then there is no need to worry or give it a thought. You can directly install QuickBooks Desktop Pro on more than one device with a single-user license on multiple portable devices. In fact, it will allow users to input information at the office and then work upon that or even additional files at home or any other place using another system.
For further query, dial our QuickBooks support number 1-877-715-0222!
Have a look upon different kinds of QuickBooks Pro remote access before talking about the steps for how to install QuickBooks Desktop Pro on multiple PCs!
Can I access QuickBooks desktop remotely?
QuickBooks remote access enables the QuickBooks user to work from a remote location. The demand for remote accessibility of accounting data is growing because it increases the ease of work reducing time and increasing output. This useful feature is not inbuilt in the QuickBooks's desktop version naturally. You have to go for either of these options for remote access functionality.
Hosting QuickBooks Desktop on cloud
QuickBooks Desktop Software hosting has been authorized to be used on the third-party servers by Intuit. This enables authenticated QuickBooks users to access QuickBooks, installed on the server of hosting providers from anywhere over the internet.
It not only supports cross-device usage but also gives an edge for the accounting professionals. Now the question may be arising in your mind how it is helpful for accounting professionals? The reason is that they don't have to make any extra effort with the QuickBooks installation or maintenance because the hosting service provider takes care of all those tasks. Multi-user collaboration is another advantage.
Switching to QuickBooks Online
QuickBooks Online is an Intuit solution that works entirely on the cloud. The best part of this is that it is accessible from any internet connecting device anytime in order to work upon your accounting tasks. How many users can collaborate over it at a time will depend on the plan selected by you.
The major concern with this service is that you can't enjoy all the features of QuickBooks Desktop here. Moreover, you may see certain changes to the user interface as well that can adversely affect the user experience. In case of a further issue, dial our QuickBooks online support number.
Using QuickBooks Remote Access tool
QuickBooks Remote Access tool can be easily connected to the remote machine where the QuickBooks desktop is installed. All the basic activities can be completed using this tool:
Copying files between local and remote computer,
Print files on the remote server using the local printer,
Remote Access of QuickBooks data folders, files, etc.
Steps to install QuickBooks Desktop Pro on different desktops
Step 1: Download the QuickBooks via CD
Discharge the CD drive to insert the QuickBooks software CD into it.
QuickBooks installer will automatically open, once you insert the QB CD into the drive.
Now doing a "Start" Right-click on it will open a dialogue box from where you need to select the "Explorer" tab.
In the "Explorer" screen, you will see the 'Folder List' at left side. Choose QuickBooks CD now.
In order to launch the QuickBooks installer, choose the "Setup.exe" file.
Step 2: Choose the installation type
Select the "License Agreement" checkbox. Now press the "Next" tab. It allows you to select the 'Installation Type' page.
Step 3: Share QuickBooks over the Network
Select the "Express" icon in the 'Choose Installation Type' page. It will assist QuickBooks recommendation on installation options.
Click on the "Custom and Network Options" tab to share the QuickBooks over the network.
Step 4: Enter the License and Product Numbers
After choosing the "Express" option, select the "Next" tab. This will direct you to the License and Product Number page.
Now enter the "License and Product Numbers".
Step 5: Navigate to the Custom and Network option
If the "Custom and Network" option is already selected in the past steps, then go to the "Next" tab to reach the 'Custom and Network Options' page.
Have a look at available alternatives & then hit onto the "Radio" tab.
Step 6: Locate the installation location
Now in the sixth step, click on the "Next" tab. It will make you reach the "Upgrade" or "Change Installation Location" page.
Tap the "Change Install Location Radio" button and then select the "Browse" icon if you want to go to another location.
Now comes the chance to tap the"Next" tab to reach the "Ready to Install" page.
Step 7: Review the Settings for Accuracy
Open the 'Ready to Install' page to review the settings for accuracy.
Click on the "Install" tab to begin the installation process.
Step 8: Finish the installation
Now, this is the last step. You will see the "Congratulations!" page when the 7th step is done properly. You need to verify two icons. One is the "Open QuickBooks" icon & next one is "Help me get started" icon.
Move the cursor on the "Finish" icon. Close the Intuit QuickBooks installer. Repeat all these steps for all systems.
Note: You can not install QuickBooks on a shared computer system. You can't even utilize the program across multiple PCs. You need to install the software on each and every computer.
If you get QuickBooks installation errors, you can use QuickBooks Install Diagnostic Tool.
Negative Points regarding QuickBooks Pro
There are many users who seem to have a positive perspective about QuickBooks Pro, but whether it's QuickBooks or QuickBooks alternatives every product have some cons along with its pros. Here are some of the recurring issues that may arise while using QuickBooks Pro:
Steep Learning Curve: QuickBooks Desktop Pro has a steep learning curve. It is one of the most common issues users face.
Forced Upgrades: Since we know that the license of Desktop Pro is valid only for three years. It becomes frustrating for several customers. While some users said that they were unaware of the forced upgrades, claiming extortion as well as a fraud. Thus, while repurchasing the software after every three years seems to be a traditional model of locally-installed software.
Slow & Buggy: It has been reported by many users that the software loads slowly. Few users report bugs in this accounting software claiming that it crashes randomly with a loss in information too.
Too Expensive: For some users, it is very expensive, mainly after adding payroll or even extra users.
There are other complaints also. Like outdated UI, occasional issues that arise while upgrading to a newer version of the software, problems arise with bank live feed connections, poor control over changes to transactions, require high skills for how to use the software.
As we all know that things get updated, changed with the technology advancement, so why not to talk about QuickBooks Desktop Pro 2019!
What's new in QuickBooks Pro 2019?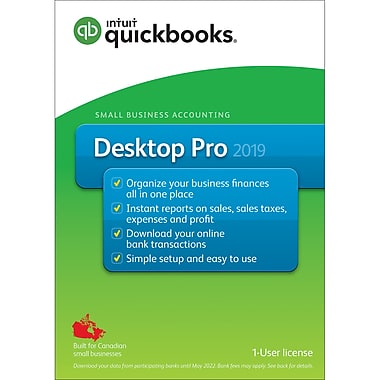 QuickBooks Pro 2019! Buy Now!
As per the recent QuickBooks update of 2019 version, you can take benefit of real-time visibility of invoice statuses to accelerate collections and stay on top of your cash flow.
You can easily and quickly transfer customer credits across jobs.
Easily keep track of what you owe vendors, from check to bill pay.
Reliably and significantly reduce file size without deleting data – on your own with confidence and ease.11
Be confident that you are accruing sick and vacation time correctly.12
Easily upgrade or transfer your Intuit QuickBooks file to a new computer.
Get your work done significantly faster with windows open across multiple monitors.9
Save time with a new searchable Chart of Accounts.
Help deliver your payroll taxes on time with a payroll liability reminder on the home screen.10
Compare business performance on a cash or accrual basis with one click.
Final Outcome
Though QuickBooks Pro is integrated with so many features useful for business and accounting. But  Intuit QuickBooks Desktop Pro has a steep learning curve and the certain number of features may be harmful to smaller businesses. Though QuickBooks Pro is an excellent choice yet it lacks behind due to the limited number of users, and poor customer support. We would like to suggest for businesses requiring mobility to go for QuickBooks Online cloud-based software. For QuickBooks customer service regarding QuickBooks Desktop products even for QuickBooks Premier and QuickBooks Enterprise too, you can contact our QuickBooks Enterprise Support team by dialling our Quickbooks phone number 1-877-715-0222.