Invoicing is an important part of a business, and you cannot avoid it. Manual invoicing has become outdated today because it is simply difficult, expensive, and caters to many chances for human errors. But today, you don't have to rely on manual invoicing, and this is because of online invoice generator apps that you can easily download from the Playstore on your device.
Invoice generation on mobile phones has become very easy because these apps can help you create new invoices, keep track of payments, take care of accounts, and manage other financial affairs.
In this post, we will list out the best invoice maker apps on the web that can help you create invoices on your mobile.
Other Recommended Articles:

Record a Loan Payment in QuickBooks Loan Manager
How to Set Up Bank Reconciliation on QuickBooks?
QuickBooks Won't Open Error: Resolve It With 5 Solutions
Top invoice maker apps that you can find on Playstore!
Here are some of the top-notch invoices generating applications that you can use on your android devices.
1. Invoice Maker – Receipt & Billing app
If you want to create invoices and manage all of your monetary affairs from one place, you should go for this free invoice maker application. We would like you to know that this is a free and very simple estimate creator app that anyone and everyone can use. It is best for all kinds of businesses, so you don't have to worry about any restrictions. You have to download the application on the google play store through the different options that it offers. On this free receipt maker app, you will find different templates that you can use to create invoices for your clients. You can use the templates in their default design, or you can also customize them according to the nature of your biz.
2. Invoice Maker – Invoicing
This is another popular invoice maker app that can help you create invoices and share them with your clients in a matter of seconds. This free receipt maker is famous because it is fast and a very easy-to-use resource. You would find multiple invoice templates on the main interface of this free application, and you have to pick the one which intrigues you the most and fill it with your details. This free receipt maker app comes in both free and paid versions, and it is up to you to select the one best suited for the type of business you are managing.
3. Wave
This is another well-designed invoice maker application considered best for startups, freelancers, consultants, and other people working on contracts. You can download waves for free from the Playstore and can start creating invoices without any formalities. The app provides you invoice templates that you can edit and personalize as per your requirements. The best thing about this estimate creator is that it also allows you to add bank cards and payment methods, which can help you speed up the payout process.
4. Invoice2GO
This is one of the most user-friendly applications that you should know about. With invoice2GO android application you can create new invoices, track and check the status of your old ones, you can also create estimates and memos for free. There are more than thirty different invoice templates from which you can pick the most suitable one for your business. Also, know that invoice2go has integrations with PayPal. You can directly receive payments in your PayPal account if you have this app.
5. Zoho Invoice Maker
This application is specially designed for small businesses that cannot afford the manual invoicing process. We would like you to know that with Zoho, you can create new invoices based on offered templates by this app. You can also use it for multiple purposes, including generating and calculating estimates, setting up retaining invoices, setting reminders and alerts, and managing your day-to-day projects. You can use Zoho for free if you manage a business that works with five or less than five clients. You can download the Zoho invoice maker application for free from the Playstore.
6. Quickbooks
This is another free mobile invoicing and bookkeeping application. If you are planning on starting a new business and are looking for a utility that can help you create new invoices, manage your day to day finances, check your cash flow, check the progress of your profits, calculate losses and manage all your expenses, then you should certainly go for QuickBooks app. This is a very reliable application that is filled with tons of features that would stun you. If you have quick books installed on your mobile, you would not need a physical accountant to manage your business.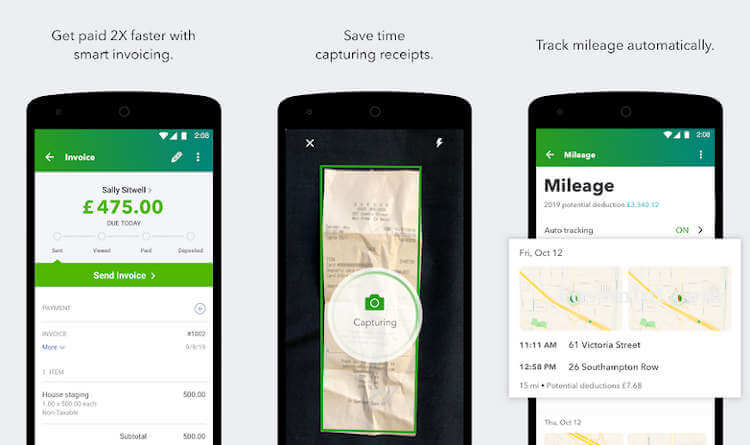 7. Simple invoice manager
The simple invoice manager is the last application on the list. Still, it is certainly one of the most helpful ones in this. As the app's name tells us, it is extremely simple and straightforward in its work, so you don't have to worry about learning or practicing mobile invoicing. You have to download simple invoice manger, access the invoice templates, create invoices for your clients and track them until they are paid off. You can also plot charts, graphs and create receipts for sales and purchases your business makes. It is a good solution for invoicing and billing operations.
These are some of the top invoice maker apps that you can download from the Playstore. These apps can certainly help you manage your invoicing process and billing process from your mobile!