Are you a user of Sage 50, and want to convert Sage 50 to QuickBooks Desktop? If yes then, don't worry, you can do it perfectly without having any problem. Yes, in this blog, you will get the procedure to convert Sage 50 to QuickBooks Desktop by using QuickBooks conversion tool.
Save Time & Effort
Get help from expert
Get your accounting work done by experienced accountants. Fix all your accounting software errors & problems. Dial our toll-free number +1-844-405-0904.
This procedure will be done by the QuickBooks conversion tool. Those who have no knowledge regarding conversion tool, there is a little overview, read it, and then proceed for the procedure.
QuickBooks conversion tool is used to convert company files to another program without losing any data or information from the company file, and also you will be able to record the current business state. Now let's know 'How to convert Sage 50 to QuickBooks Desktop?':
Other Recommended Articles:

Pros And Cons Of QuickBooks Online
Tips To Choose Best Accounting Software For Bookkeeping
QuickBooks Desktop(QBDT) App Download Install and Use
Procedure to Convert Sage 50 to QuickBooks Desktop
Here is the procedure to convert Sage 50 to QuickBooks Desktop, you have to follow all these steps to do it perfectly. So let's proceed for the first step:
Step 1: Arrange All the Conversion Requirements
At first, you have to arrange all the requirements to download and use the QuickBooks conversion tool
The conversion tool Windows 10, Windows 8.1, Windows 8 -OS, 500 MHz Intel Pentium II (minimum) – Processor, 512 MB (minimum)- Memory (RAM), 2.5 GB of free space- Hard Drive, Version 2.0 – Microsoft .NET Framework, Pro, Premier, Enterprise or higher – QuickBooks Desktop, and version 2013 and above – Sage 50. And make sure that Sage 50 and QuickBooks Desktop are the US version.
After arranging all the requirements for the process aware with the things, 'What can be converted, and what can't be converted.
| Can Be Convert | Can't Be Convert |
| --- | --- |
| Account, Employee, Item, Customer, and Vendor lists | Closed or partially closed Sales Orders, Purchase Orders, and Estimates |
| Account balances | Payroll items used to calculate paychecks (hourly and salary payroll items, deductions, medical insurance, etc) |
| Customer and vendor transactions | Fixed Assets |
| Employee profile and contact info | Payroll transactions and employee year-to-date info (paychecks, year-to-date adjustments) |
| Payroll General Ledger account balance info | Work tickets |
| Paychecks (convert as journal entries) | Individual employee wage or deduction information |
Step 2: Prepare For the Conversion
You can install QuickBooks Desktop on the same computer as Sage 50 if you haven't already.
On your local hard drive, you make sure your Sage 50 and QuickBooks Desktop data are saved. You can also move it to your local hard drive before you start If it not happened.
Before you start this process you need to create a backup of your Sage 50 data.
Step 3: Setting Up of Sage 50
Open Sage 50 and the file you want to convert.
Click the option of Maintain from the main menu.
Then, click on the Users option then, click and set up the Security option.
You can select the Data Access/ Crystal Reports tab.
After that, select with the following login information option (Note: You can't change the ID field).
Then, click the change option and then, set a password for the transfer.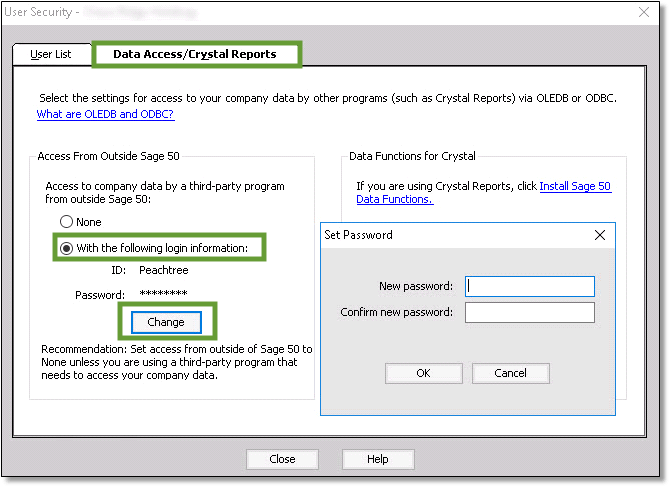 After that, you set your new password and then close the Sage 50.
Step 4: Download the QuickBooks Conversion Tool
Download the Conversion Tool, by clicking on this linked text 'QuickBooks Conversion Tool Download'.
After that, you can find and then open the folder that you can save with the downloaded file.
You have to just do the right-click QuickBooksConversionToolSetup.exe and then click on the option of Run as Administrator.
Step 5: Convert the Data from Sage 50 to QuickBooks
Click on the option of Browse in the conversion tool.
Then, must have to find and click on the option of Sage 50 company file which you want to convert.
Click on your QuickBooks company file from the Database Name drop-down menu in the Pervasive 32-bit ODBC engine DSN Setup window. And then you can just click on the option of OK.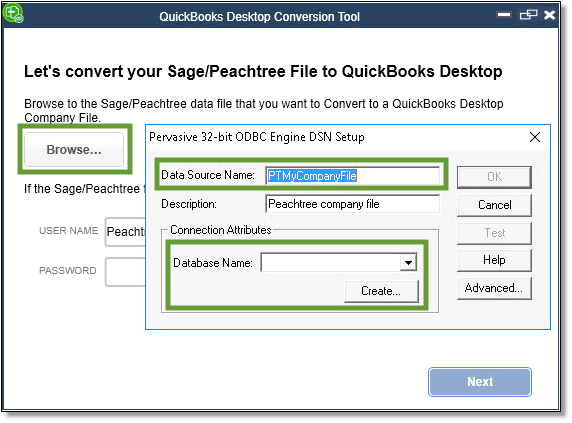 Enter the Sage 50 password you just created. and then click on the option of Next.
Select the QuickBooks Desktop version and your Sage data into that edition you are moving.
Select Browse and choose the folder to save your converted data. And then select the option of Next. The defaults show in your My Documents folder if you do not have to pick a folder.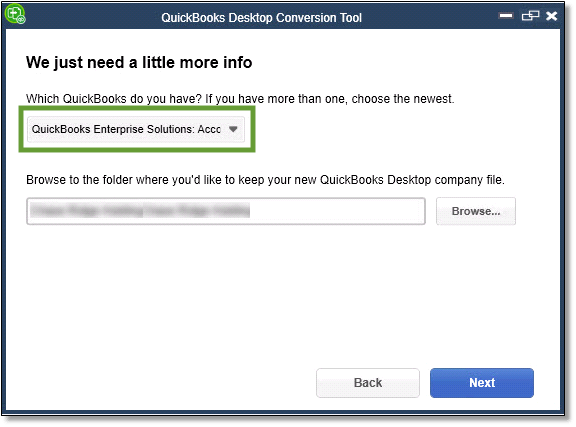 Review what you entered. If everything looks good, then you can select Convert File to start the conversion.
The conversion tool runs automatically, and It may take some time to convert your data.
Step 6: Recheck the Conversion
You can click and Open in QuickBooks when the tool is finished. Review your data in QuickBooks and make sure everything is there, and then you can review the transfer log:-
You can open the Windows Start menu firstly.
Then search for that and then open the File Explorer option.
Go to C:\USERS\[Your Windows User Name]\My Documents\Intuit\QuickBooks.
You can also give the review to the failed transaction log file in the folder. And this process informs you to any data did not transfer over.
Now the conversion process is completed.
We hope, this information helps you to understand how to convert Sage 50 to QuickBooks Desktop, and if you still have any problems or any query regarding this topic then you can get expert support through the toll-free number +1-844-405-0904.
Didn't find your solution?
Don't get stressed out? We are here for help. Find a QuickBooks ProAdvisor or CPAs who can help you get rid of your problem. Dial our toll-free number.