QuickBooks Desktop App : What's New In 2019
January 28, 2019
Posted by:

Editor Team

Category:

QuickBooks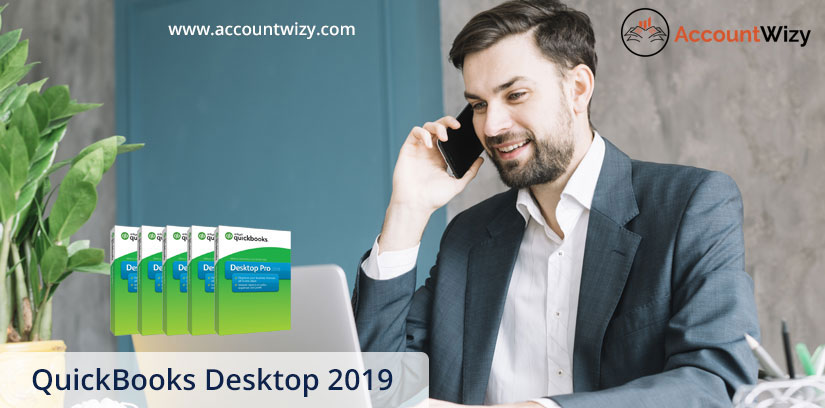 Intuit QuickBooks is the famous accounting software used for accounting. The accounting software offers strong accounting software features, and tons of reports as well as integrations. QuickBooks accounting software is getting extremely famous nowadays. It is continuously gaining popularity among other accounting software like Xero cloud accounting software, Quicken accounting software, FreshBooks accounting software because of it's several user-friendly and reliable features. Let's learn about QuickBooks Desktop App: What's New In 2019!
QuickBooks Desktop first version was created in back in 1992. Using this remarkable accounting tool, you can easily manage accounts accurately with fewer efforts and high accuracy. All types of accompanying changes, fixes and software upgrades are now introduced in QuickBooks Desktop Premier 2019.
QuickBooks Desktop App: Requirements
SYSTEM REQUIREMENTS
Windows 7 SP1, 8.1 Update 1, or Windows 10 update/version (supported by Microsoft)
Windows Server 2012 R2, 2008 R2 SP1 or SP2,
2.4 GHz processor
4 GB of RAM
2.5 GB disk space recommended (an extra space needed for data files)
A 4x DVD-ROM drive
Internet access is required for payroll and online features
Require product registration
BROWSER REQUIREMENTS
Internet Explorer 11 (32-bit)
INTEGRATION WITH OTHER SOFTWARE
Microsoft Word and Excel integration needs Office 2010 SP2 – 2016, or Office 365 (32 and 64 bit)
E-mail Estimates, Invoices and other forms with Microsoft Outlook 2010-2016, other SMTP-supporting e-mail clients.
Integration with QuickBooks POS 18.0.
Data transfer from Quicken 2016-2018, QuickBooks Mac 2016 and Microsoft Excel 2010, SP2, 2013, 2016
QuickBooks Desktop App: What's New and Improved
Since Intuit is shifting investments back to the desktop edition, therefore there will be more enhancements and features that will come out. In 2019, you will see the message shift to help your client in finding the best QuickBooks option for their requirements instead of forcing a one-size-fits-all approach.
The QuickBooks Desktop product team will focus more on improving the existing features for better functionality and workflow. After performing a test run with the new update, some of the top improvements are highlighted that will be in the QuickBooks 2019 update.
Customer Invoice History Tracker
After displaying an invoice on the screen, you will see a See History link that opens a window offering you with additional information regarding the invoice. You will also get other information like:
Invoice created date
Invoice due date
Invoice email date
Customer name Invoice viewed date
Amount and date of customer Receive Payment that is recorded in QuickBooks
Amount and date of Make Deposit being recorded in QuickBooks
At this time,  it is not clear what are the exact requirements for the system to save the "viewed date". All you have to do is email the invoice via QuickBooks. This may not work in case you are using Outlook for email, although it is not confirmed yet.
Sick & Vacation Time Tracking Is More Reliable
QuickBooks ProAdvisor has always struggled with tracking vacation and sick time in QuickBooks. One of the biggest grievances is that you have to suffer from overpaying for having these benefits. Not a warning will come to you if your employee has used too much sick time. The QuickBooks desktop app 2019 has a new format of tracking sick. It shows Current: Accrued, Used, and Available making it clear to the employee what they have provided.
The maximum type of hours an employee can accrue is determined by company preference. For instance, if the maximum type of hours per year opts as the default, an employee will halt accruing time in case they have met the specified time(maximum number of hours).
Transfer Credits Between Customer Jobs
Whenever you open credits created for a particular job, you can apply them across all jobs for that customer. There is no need to be restricted to just that one job. It is visible to you in the main ribbon menu in the Invoice window –Apply for Credits.
In order to support this, QuickBooks will record an in/out transaction through another current asset account named as account for credit transfer. This GL account gets added automatically by QB for the first time only due to which you can use this feature for assigning credit to another job. The interesting thing about it is that this account will be listed as "inactive" on the Chart of Accounts. And it will discourage users from choosing it at the time of normal transaction entry.
Cautions associated with this feature are:
Once the credits are transferred from one job to another within the same customer, it cannot be undone. Any kind of future corrections needs to be done manually by using a separate transaction.
Users not having access to Chart of Accounts cannot perform the "first" instance of the credit transfer between jobs. QuickBooks uses the very first instance to trigger the new Other Current Asset account creation mentioned previously.
The Transfer of Credits, as well as Apply Credits, don't work when they are in an Accountant's Copy of the client's data.
Inventory Enhancement (Inactive Inventory Items Included in Inventory Report Totals)
While working heavily in inventory, you may face this issue that the balance sheet has no match with the summary report of the inventory item. By default, the summary of inventory items will not list inactive items, but the inventory total would include these items. It is shown in total on the balance sheet. It becomes frustrating to track down.
It is considered one of the best practices for not having any items like this, but commonly we have to see it. In this case, the value of inventory as shown in these reports will not have any match with the inventory value in your Balance Sheet. It becomes a big problem in QuickBooks for small accounting businesses.
In all desktop versions of QuickBooks 2019, you have an option to include inactive inventory items in the Inventory Valuation Summary and Inventory Valuation Detail reports.
Create a Bill Payment Prompt When Writing Check
QuickBooks displays a new check for Bills window if you are creating a check for a vendor having an open vendor bill. Then you can choose to either open the Pay Bills window or continue writing the check. It will enable users to get rid of creating a check when the accurate step would be to create a Bill Payment.
New and improved prompt aid users in avoiding the use of Write Check transaction type. This happens when the proper transaction type should be a vendor Bill Payment. When a user puts a vendor name in the Pay to the Order of field on a Write Check transaction for helping a vendor having open vendor bills, QB displays a new Check for Bills window.
2019 made the improvement to evoke users by default to approach to Pay Bills. If selected, the Pay Bills window will launch already filtered for the selected vendor's unpaid bills.
Employee Pay Adjustment History
Accessible: Select Reports > Employees & Payroll > Employee Pay from the menu bar.
Adjustments History: Available in QuickBooks payroll with an active subscription of Basic, Enhanced or Assisted Payroll.
Feature: Keep the record of all the changes to employee pay rates. This is valid for only hourly, salary, bonus and commission items.
IIF (Intuit Interchange Format) Imports
The IIF file format is one of the very old formats that must be avoided by people to import data. The reason behind this is that the very strong probability of creating corrupted data lies in your QuickBooks company file. A tool called the Transaction Pro Importer is usually recommended that uses the QuickBooks SDK and is much more reliable.
However, Intuit Interchange Format is used by many businesses and Intuit for performing very few functions. In all QuickBooks desktop versions of 2019, Intuit has improved the import feature to do a better job of validating imported data. A file of records impossible to import is also created.
Intuit Data Protect
Intuit Data Protect is a way to back up and protect your data. Though there are other ways also for data protection yet, if you use it, there are other improvements such as the ability to include other data and improved notifications for backup status.
A flawless feature, intuitive automated data backup and restore experience offered by QuickBooks Desktop App. Actually, it is an online backup service helping you as well as your clients to protect their data from any loss or damage. It is done by automatically backing up the QuickBooks data file. Intuit Data Protect uses the latest online version of backup software or data protection optimizing the backup speed. Users may also opt to include other critical documents in their backup routine.
Sensitive Payroll Permissions
QuickBooks Enterprise 19.0 offers the admin for the file with a defined view of any permission levels at the time of assigning to a user. This would include easy access to sensitive payroll transactions. What you need to do is to select Company from the menu bar then go to Users and then click on Setup Users and Roles. Admin user gets a warning at the time of assigning permission that grants payroll transaction access.
Condense Data File Optimization
This feature was used in earlier QuickBooks versions, but in 2019, there are some new improvements that you will find in the File/Utility menu and on the Accountant menu as well. There are fresh and new options in this release like the ability to just remove the audit trail.
Reliably reduces a QuickBooks company file size without causing the deletion of data. When you choose to condense data, there is the other option to keep all transactions as it is removing the audit trail. Behind the scenes, QuickBooks cleans up a few performance logs and other technical details producing the result in the form of an estimated 32 percent file size reduction.
Easy Upgrade
It is a simple two-click process for installing the new version of QuickBooks Desktop. The entire upgrade processes are in auto mode giving an option to the user to retain the older version of QuickBooks.
All the links to their data files will already be included in the No Company File Open window when the user opens a newly installed version of QuickBooks Desktop App. It is a new improvement from the previous year's versions of QuickBooks that you can enjoy only after installing a new version. But the user has to browse to find their QuickBooks files for the very first time.
Pick, Pack and Ship Process in the Sales Order Worksheet
The Pick workflow was included in the subscription of platinum to QuickBooks Enterprise 18.0. It has been expanded to add a Pack and Ship workflow in QuickBooks Enterprise 19.0 but only if you enable Advanced Inventory.
Expanding on the pick workflow from earlier versions: The Sale Order is sent for packing from the Sales Order Fulfillment Worksheet Dashboard and assigned to a Warehouse Packer. That packer records the picked products as boxed and notes the weight as well as dimensions of the package. The details of the packed products are updated in the QuickBooks Enterprise sales order.
QuickBooks Desktop Pro 2019: QuickBooks Review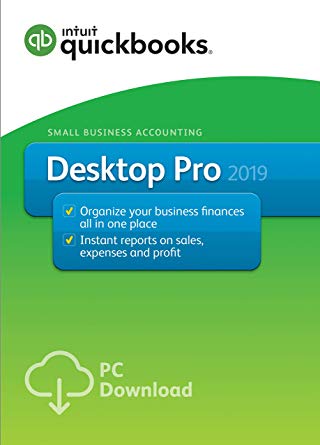 Pros
Advanced features
Ample accounting reports
Excellent tax support
On-premise
Numerous integrations
Double-entry accounting
Cons
Steep learning curve
Limited users
PC-only
Pricing
QuickBooks Desktop Pro is a locally-installed software. You can purchase a license for QuickBooks Desktop Pro 2019 or you can purchase a yearly QuickBooks Pro Plus subscription that includes tech support, automatic updates, along with the automatic backups.
If you purchase a QuickBooks Pro license, support will be ended for the product 3 years after the release of the product. This means you'll be convinced to constantly update and again purchase the software.
Cloud-Based Or Locally-Installed
QuickBooks Pro is a locally-installed program although internet access is needed for certain functions like payroll. You can purchase QuickBooks cloud-hosting paying an extra amount.
Hardware & Software Requirements
QuickBooks Pro is compatible with Windows (versions 7, 8.1, and 10) only, Windows Vista (SP2 or later), and Windows Server 2008 (SP1 or SP2), 2012 (R2), or 2016. Certain features need Microsoft Word or Microsoft Excel. Features requiring net connection are only available with Internet Explorer 11.
Other hardware requirements include:
2.4 GHz processor
4 GB RAM (minimum requirement), 8 GB RAM (mostly recommended)
CD-ROM drive (for CD installations)
1280 x 1024 screen resolution
Read More: