Tired of finding ways to set up direct deposit for Employees in QuickBooks Desktop? Relax, you just find it. You are in the place where you will get the detailed steps to set up your company payroll for direct deposit in QuickBooks Desktop. Read the article to learn about its benefits and get answers to your questions.
Save Time & Effort
Get help from expert
Get your accounting work done by experienced accountants. Fix all your accounting software errors & problems. Dial our toll-free number +1-844-405-0904.
Direct deposit is an electronic way to pay your employees using payroll. In QuickBooks Desktop, you can directly pay into the pay card, saving, and money market accounts rather than a physical check. For using direct deposit in QuickBooks, you need to set up your payroll bank account. The account must be of United States that accept ACH payments.
Before setting up direct deposit, you should know what information you need to collect from your employees.
Other Recommended Articles:

QuickBooks Integration with Shopify
What is Accounting Software
Accounting Software Features 
What Information of Employees Need for Direct Deposit
You need some of the employees' information to set up the direct deposit. Here is the information listed below should have a look.
Employees bank account number
Bank name
Account type in the bank
Routing number of bank
Steps to Set up Direct Deposit for Employees
Here the complete procedure is given to set up direct deposits for employees in QuickBooks Desktop payroll. Follow the steps to start setting up.
Step1: Setting up Company Payroll for Direct Deposit
To start you need to set up your company payroll for direct deposit. Follow the steps to set up.
1. Gather Information of your Business, Bank, Principal Officer
First, you need to collect information about the business, bank, and principal officer. let's have a look at what information you need to collect.
The name of your business, address, and EIN.
Social security number of the principal officer, birth date, and home address.
Bank routing or online bank credentials and account numbers.
2. Connect your Bank Account
Now you need to connect your bank account with QuickBooks Desktop payroll services. Follow the steps that are given below.
Open QuickBooks and sign in with QuickBooks credentials.
Go to the 'Employees' section and select 'My Payroll Services, then click on 'Active Direct Deposit'.
Now Now select the 'Get Started' button. If you don't see the Get Started button, then do the following steps:

Select I'm the admin, and I'm the primary person who can… and then enter the email address or user ID of the admin.
Click on 'Continue'.
Sign in to your Intuit account by entering your email or user ID. In case you don't have an Intuit account, you have to select the Create an account link.
Select the 'Get Started' option.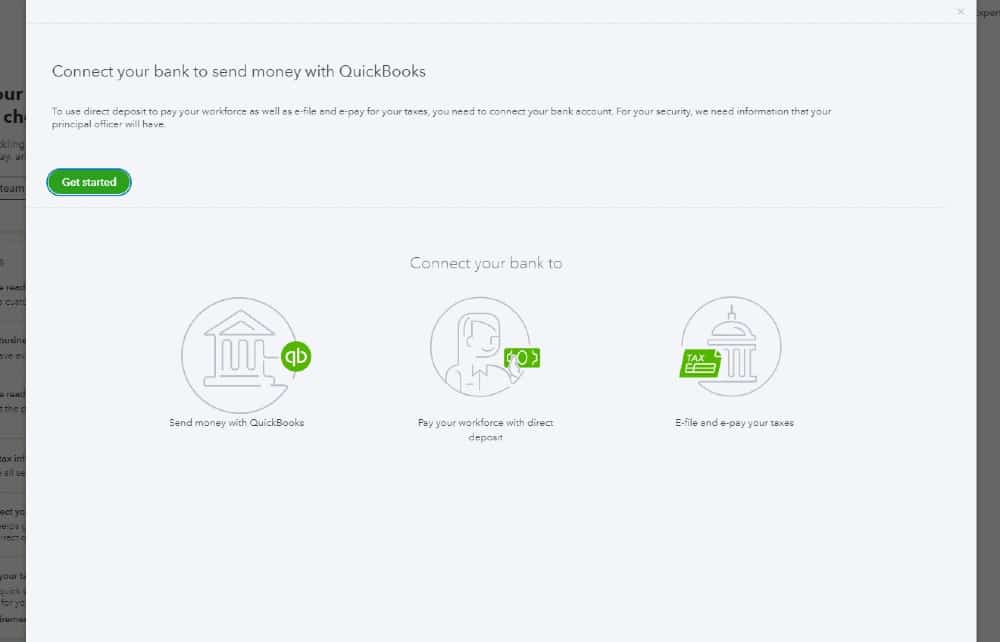 Go to the 'Business' tab and then click on the 'Start' button and fill in the info. Then select 'Next'.
Select 'Next' after filling in the principal officer information.
Select Add new bank account.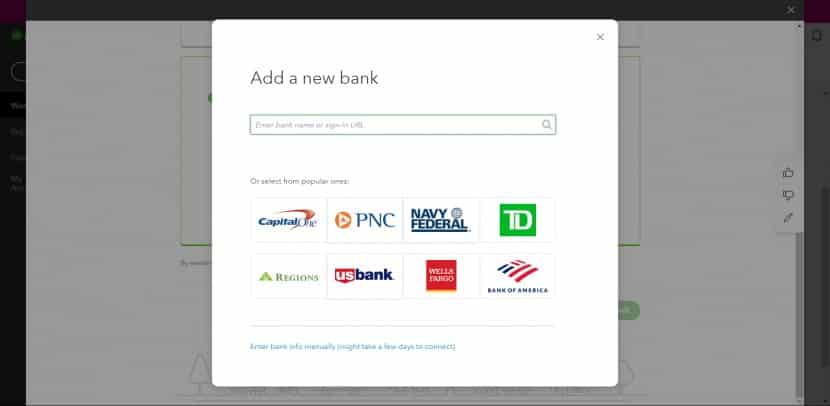 Enter the name of your bank with your online bank credentials. If needed, also fill in your bank routing and account numbers.
Now you have to create a PIN. This PIN is used while sending payroll. After confirming your PIN twice, click on the 'Submit' button.
Click on 'Next' and select 'Accept and Submit'.
You may be asked to confirm the principal officer's full security social number. Confirm this and then select the 'Submit' button.
After completing the above steps, the following messages will be displayed on the screen.
Your bank account is connected: This means you have connected your bank account with the QuickBooks Payroll service and now you are ready to pay your employees through a direct deposit. Skip point 3.
Thank you for signing up for QuickBooks Direct Deposit: This means you have to you are one step away from paying your employees. First, you need to verify your bank account. Move to point 3.
3. Verifying your Bank Account
After that, you need to verify your bank account. Follow the instructions to do so.
First of all, go to the Intuit QuickBooks Payroll and check whether there is a debit amount of less than $1 in your bank account within two business days.

After seeing the amount, open your QuickBooks and sign in as QuickBooks admin.
Go to the 'Employees' tab and select 'My Payroll Service'. And now select the 'Active Direct Deposit' option.
Login to your Intuit account.
Now you have to enter the debit amount two times, and then select the 'Verify' option.
Lastly, enter your payroll PIN and select the 'Submit' button. Then click on 'OK'.
Step 2: Get a Direct Deposit Authorization Form
You need to get a direct deposit authorization form after setting up company payroll. After that, you have to attach voided check from the employee's bank account. Don't submit the authorization form and voided check to QuickBooks, these are for your records only.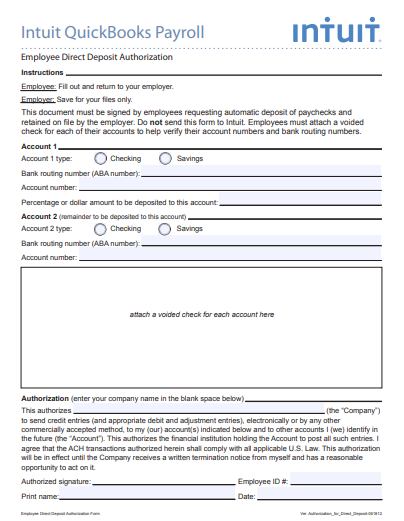 Step 3: Add Direct Deposit to Your Employees
In the last step, you need to add the direct deposit to your employees.
Go to the Employees tab and choose Employees Center.
Select the employee's name from the list.
Choose the Payroll Info tab.
Choose the Direct Deposit button.
In the Direct Deposit window, choose Use Direct Deposit for [Employee's name].
Select paychecks deposit, you want to deposit in one or two accounts.
Enter the employee's bank name, routing number, account number, and account type.
If you choose to deposit in two accounts, enter the amount that deposits to the first account in the Amount to Deposit section and the remaining goes to the second account.
Hit the OK button and enter your direct deposit PIN.
We have explained how to set up direct deposit, now we are going to discuss the advantages of using it for your business.
Additional Setup for Direct Deposit
If you are searching for the additional setup for eg. how to delete direct deposit and edit employee's direct deposit information, you should read the following information. Here we have explained the detailed procedure.
How to Delete Direct Deposit Permanently for an Employee
You can delete direct deposits permanently for any employee. Delete direct deposit by following the given steps.
Go to the Employee tab, and select the Employee Center option.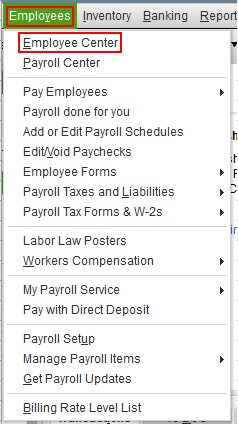 Now double click on the employee name, whom you want to delete permanently, or want to edit his/her profile.
After that, go to the Payroll info tab for the employee details.
Click the DD option, and clear the box you need.
In the end, use the DD for employees.
How to Edit an Employee's Direct Deposit Information
If you want to edit the employee's information in the direct deposit, you can do it easily by following the given steps.
Firstly, open the paycheck and visit the Paycheck Detail window.
Uncheck the Use Direct Deposit option in paycheck details.
Save and Close it.
After that, open the paycheck again and choose the Use DD option.
Lastly, click on the Save option.
Why to Set up Direct Deposit in QuickBooks
Direct Deposit has many benefits for both employer and employee. It becomes a popular payment method nowadays. Let's discuss what are the benefits of direct deposit for you and your employees.
For Employers
First, let's discuss the benefits of direct deposit for employers.
Saves Time: Direct Deposit is a good way to save precious time for the other operations. Writing, signing, and delivering paychecks to employees is a long process and takes much time. Direct Deposit allows you to avoid these time-consuming steps.
Saves Money: Writing, signing, and mailing paycheck are the labor-intensive method for the payment. But in direct deposit, you don't need to follow such a costly method. By this, you also avoid the cost of reusing lost checks and stopping payments. So this is the money-effective method.
Security Increased: If paper checks are lost or stolen, the risk of fraud increases. The direct deposit protects you and your employees from the risk of fraud and duplicate signatures.
Automated Pay Schedule: It is very difficult to pay your employees on the busiest day. QuickBooks Direct Deposits allow you to schedule the ACH payments and pay your employees on time.
For Employees
Now we will discuss the direct deposit benefits for the employees. Read the information mentioned below.
No Paper Work: Direct Deposit is a digital way of payment. With this, you don't need to take care of the bundles of files. Digital transactions make work easy because it is very easy to track payments and records. you can keep your records safely for the future and make the work eco-friendly.
Easy Budgeting: Direct Deposit allows you to build up a saving account and control the debit card spending. You can request the deposit amount of your paycheck be directly deposited.
Convenience: You don't need to visit the bank to deposit the physical check and wait for a long time for the payment. Through QuickBooks, you can easily pay online and can save time.
Frequently Asked Questions (FAQs)
How long does Direct Deposit take?
Direct Deposit takes less time than the manual check deposit. Normally it takes 2 business days for the deposit to take place when paychecks are sent before 5 pm PST.
Is direct deposit safe?
Yes, direct deposit is totally safe and safer than physical checks. Losing and stealing paper checks poses a risk of fraud, which makes them quite insecure to deal with. Direct deposit terminates all these security issues and lets you work more confidently.
What happens if direct deposit is late?
If you find that the direct deposit didn't hit the account, don't worry. Contact the bank and check the status of your pending payment. It happens sometimes, due to system glitches or server issues. Coordinate with the bank regularly and ask for a timeline for the successful deposit.
Here we discussed the setup procedure and all the information about the direct deposit that you need to know. Hope all your doubts are cleared after reading the complete article. If you still have any queries, get instant support from our QuickBooks ProAdvisor. Our well-trained team will provide you best solution. Dial our toll-free number +1-844-405-0904.