Every business, whether small and medium-sized businesses, requires an invoice. Because an invoice is the kind of agreement between any seller and customer that shows that a product and service has been sold or purchased. And another fact is invoiced is the method to attract your client. So It should be clean and well managed. So that your client attracts and understands well. But how to do that, hence if you are a Quickbooks user then you don't have to worry about that. Because Quickbooks support customizable Quickbooks invoice template.
In addition, if you have knowledge of MS-excel and MS-word. Then it's beneficial for you because you can more customize your invoices. And Quickbooks has the facility to add external templates. We will guide you step by step on how to customize the invoice template for Quickbooks. So let's see how to customize the invoice template in Quickbooks. 
How To Customize Quickbooks Invoice Template 
Quickbooks invoice template customization is not a hard task. But if you don't know how to customize the invoice template in Quickbooks. Then it can become your headache. Hence if you want to give a better look at your Quickbooks invoice template. Then follow the below steps to attract your clients.
Then select templates from the list menu.

You will see the list of Quickbooks invoices. Select and double click on one of them to customize.

Now

Basic Customization

window open where you can do the following task
First, every business invoice should have a logo. So you can set the logo by click on the select logo button.

You can change the color of your text and header text by click on the

Select Color Scheme

drop-down Menu.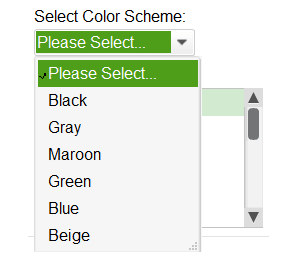 After changing the color of Quickbooks invoice, you can click on

Apply Color Scheme,

then you can see the preview of your invoice on the right side of the

Apply Color Scheme

button.

Also, you can change the font style of your invoices via

Change Font For

drop-down list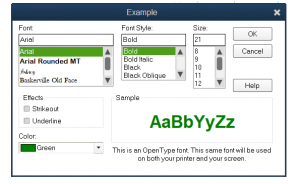 Note: While selecting the Quickbooks invoice color you should have colored ink in your printer. 
You can set which type of information should be visible on your invoice.

For this, you can checkmark on the below options like company name, email address, website address, and Fax number. You can also edit all of this information if required.
Advance Quickbooks Invoice Customization
As you have seen above some basic customization of invoices in Quickbooks. But besides these, if you want additional Quickbooks customization then follow the below steps…
Below the

Basic customization window,

you can see the

Advance customization button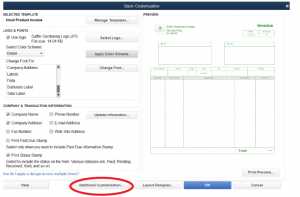 Click on it to advance customization. 

Then a new window will open where you can see 5 tabs names header, column, Prog cols, Footer, and print.

You can add or remove additional information in Quickbooks invoice.
Customize Quickbooks Invoice With Layout Designer
Another method for customizing Quickbooks' invoice is to use a designer option. For using this option you have to click on the Layout Designer button. After clicking on it you will see the layout designer window.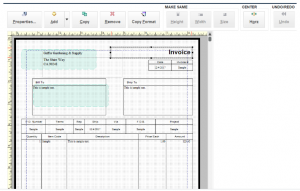 In this option, if you are a creative mind then you can give an awesome look to your Quickbooks invoice template. Because you can give the width and height of the table and text or column according to you. And also you can change the position of each element in the Quickbooks invoice template.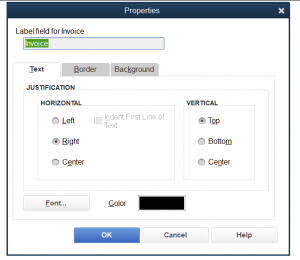 However, you can not customize each one of the headers but you can add the background image in your Quickbooks invoice template. 
Conclusion
So you have seen how to customize the QB invoice template. But remember one thing while customizing invoices. That your Quickbooks invoice template should look very simple and attractive. If you want more support on Quickbooks error and want to give suggestions then comment below or content Quickbooks Proadvisor.
Didn't find your solution?
Don't get stressed out? We are here for help. Find a QuickBooks ProAdvisor or CPAs who can help you get rid of your problem. Dial our toll-free number.