QuickBooks Online Accountant – Best Business Practice
January 31, 2019
Posted by:

Editor Team

Category:

QuickBooks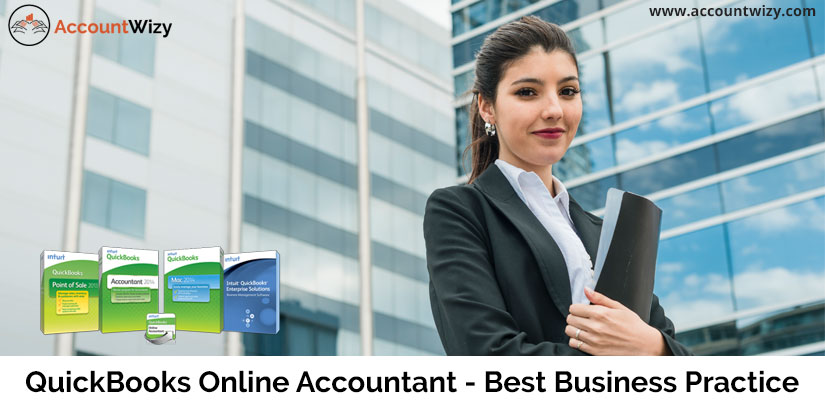 QuickBooks Online Accountant is specially designed to entitle pros like you. Using various features as well as resources that are available only to accountants and bookkeepers, you can grow and run your business well in your way.
Perfect your business practice with
QB Online Accountant
QuickBooks Online Accountant is built with flexible tools and resources letting you grow and succeed by working smarter and that too for a shorter duration. It is quite easy to define the advantage of QB Online Accountant in a simple quote-"Easy, Efficient and Innovative". It is a feature defining the new QuickBooks accounting software.
QuickBooks Online Accountant: Find a QuickBooks ProAdvisor
Manage clients' books       
Directly access your clients' books with the help of QB Online Accountant.
Accountant toolbox
Having access to the time-saving accountant resources to cut out manual entry & work efficiently.
Collaborate
Real-time file sharing and communication make working with clients quite easier.
QB Online Accountant: Features
Growth & training
By signing up for QuickBooks Online Accountant access, you'll grow your clients and skills as well.
1. Get the clients you want
Let advisable clients find you by displaying your services on our directory(Find-a-ProAdvisor).
You can list your firm for free once you're QuickBooks Certified by taking the QuickBooks certification practice test.
Customize your listing in order to promote your certifications and specialized skills.
You can reply to client reviews directly to shape your brand.
2. Preparation at your pace
Access different self-paced and live qbo training options for becoming a more trusted advisor. Sharpen your craft, do QuickBooks Certification preparation, and earn CPE credits.
Self-paced guides
Video recordings
Tutorials
Webinars
Virtual conferences
Live events
Practice Management
Manage workflow with ease & remain in touch with more than one client at a single place.

You can see all QuickBooks clients at a single glance.

Team members can track project development using customized templates.

A direct answer to queries through QB.

Automate payroll, time tracking, expense management, data collection, etc.

Pinpoint key insights with data tracking and reporting apps at a faster pace.

Synchronize clients' data and ProConnect Tax Online for faster and more accurate filing.
Work productivity
Collaborate without crossed wires

More accuracy in very less time

Find tools that you love more
Tools For Growth
Tailored advice & marketing support can boost your business instantly.

Efficient and excellent listing in the directory for bookkeepers & accountants both.

Try to promote practice through the professional way of marketing.

Learn advanced strategies for profits.
Time-Saving Tech
Cut back on data entry enable clients for doing business.

Cl integrated apps.

See real-time data with smart bank feeds.
QuickBooks Online Accountant vs QuickBooks Online
On one hand, QB Online Accountant is a free platform intended for accounting pros. On the other side, QuickBooks Online is built substantially for small business clients. Signing up for QB Online Accountant can make you access unique offerings like the Accountant Toolbox, client collaboration tools, new practice management, training resources, and special offers for your clients.
In addition, QuickBooks Online Accountant access enables accountants to access any client book from a single place. You are not required to log into them separately.
Quickbooks Online Accountant

QuickBooks Online

For Accountants: Exclusively built for accounting pros.

For Your Clients: QB Online is perfect for small businesses like Quicken accounting software, sole entrepreneurs, partnerships, LLCs, corporations, and many more.

Accountant tools and resources: Login at just one time can make to you access client management, practice management, exclusive prices for clients, etc.
Access from anywhere: 

QuickBooks Online is cloud-based helping your clients in approaching their books anywhere and anytime using QuickBooks online login.

Always free: QuickBooks Online Accountant is a priceless platform for accountants to manage and grow business practice all in one place.
Organize everything: Your clients can manage their whole financial picture from billing and invoicing to payroll and payment.
QuickBooks Online Payroll accountant: Cost
Now here comes QuickBooks online accountant pricing. If you're holding bookkeeping experience in practice, then it is really helpful. Yes! It is a free tool. The cost begins when new clients are added. So, it's clear that you will get affordable QuickBooks accountant online pricing via QuickBooks small business for accountants.
QuickBooks Online Accountant Practice Management
Practice Management is a necessary topic for all accounting professionals whether you own a single office or handling a large firm consisting of multiple employees. QuickBooks Online Accountant Practice Management is an area that most firms manage poorly. Intuit is making efforts in developing the QuickBooks Online Accountant Practice Management system to aid firms in addressing this issue.
Intuit studied accountants at work managing clients and learned three big things:
Accountants are completely deadline-driven since there are many deadlines associated with it. It is the best example, with deposits, paychecks, a variety of weekly/monthly/quarterly filing deadlines, and more. Missing a deadline means penalties, and possibly losing a client.
Accountants will use tools and processes for building structure keeping in mind that nothing falls through the cracks. Staff members have many tools. They look at the details of the client interactions. Firm owners may use higher-level tools, or a spreadsheet in order to track the tasks that are underway. Weekly or even daily meetings happen to ensure that work is done and handed off properly.
The tools used by the accountants to manage software, whiteboards, etc require regular maintenance. What they do is syncing different tools, doing double work, shifting contexts all the time.
Conclusion
Free Accounting Software QuickBooks can reduce a huge burden faced by the end-users. Other than this, QuickBooks Online Accountant makes payroll handling and other client tasks and employee management much easier than earlier. If you are residing as a small businessman in countries such as the USA and Canada, then you cannot ignore the vitality of small business software programs.