If you want to pay your bill directly or you have huge accounts payable and want to be on top in making on-time payments, so you should use QuickBooks online bill payment service. you also want to know when and how your bills are paid, you can determine this, by using QuickBooks Online Bill Pay.
You can pay the bill directly by using QuickBooks through Bill.com services or printing a check. QuickBooks provides you two ways to pay your bills via Check and QuickBooks Online. If you are using QuickBooks online bill pay then you pay $49.99 per user or per month +99 cents for ACH transactions and by checks $1.99.
After paying the bills, QuickBooks updates your primary financial statements such as the balance sheet report. This balance affects two accounts first checking account and second payable account. Because of paid bills, the amount will decrease.
In this article, we have given below steps to pay the bill using QuickBooks:
Bill Pay via QuickBooks Online
You can easily pay bills in QuickBooks and your bills will be shown paid automatically. bills are no longer outstanding. Also, the balance due in your account will be automatically updated to reflect the bill payment. Using online pay makes it easier to make payments right from within QuickBooks Online Bill Pay.
Firstly, you have to Sign Up QuickBooks online account.
Click on the Create plus sign "+" on the top part of the home page.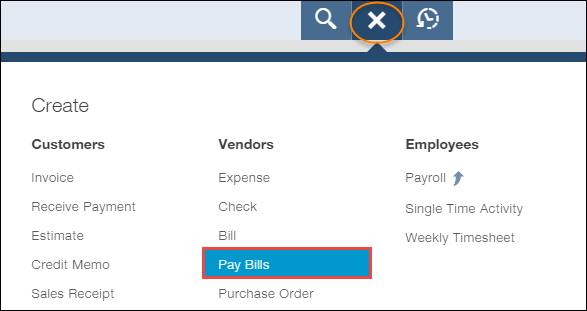 Select on the Pay bill option located in the Vendor column.
Then select the Bill Pay By using  QuickBooks Online, located on the left.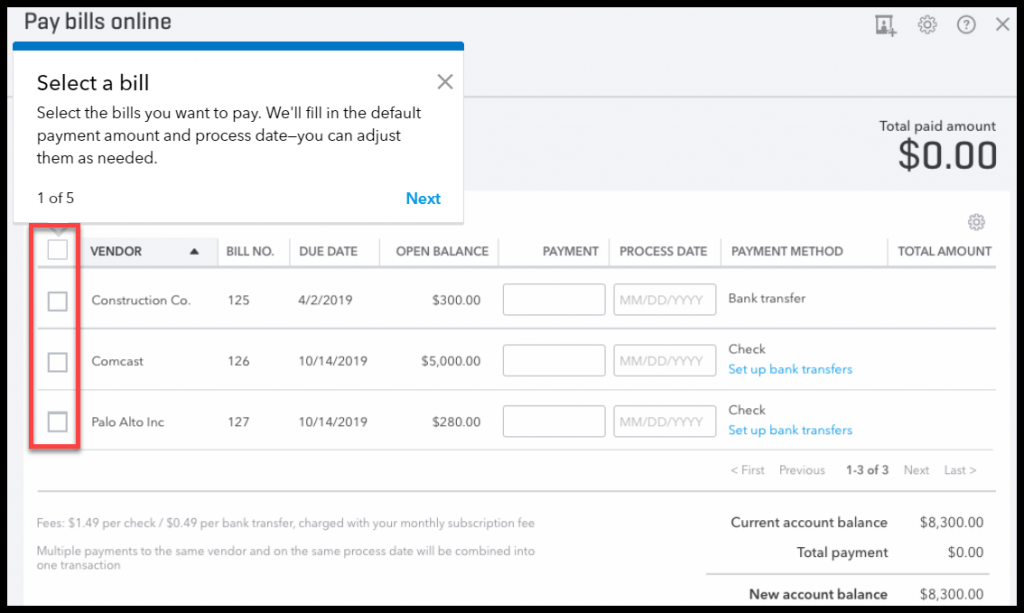 After then enter the Bill Payment Amount.
QuickBooks Online automatically shows the payment with the amount in the Open Balance field.
As shown in the image below.
Then select the Payment Process Date for each Bill.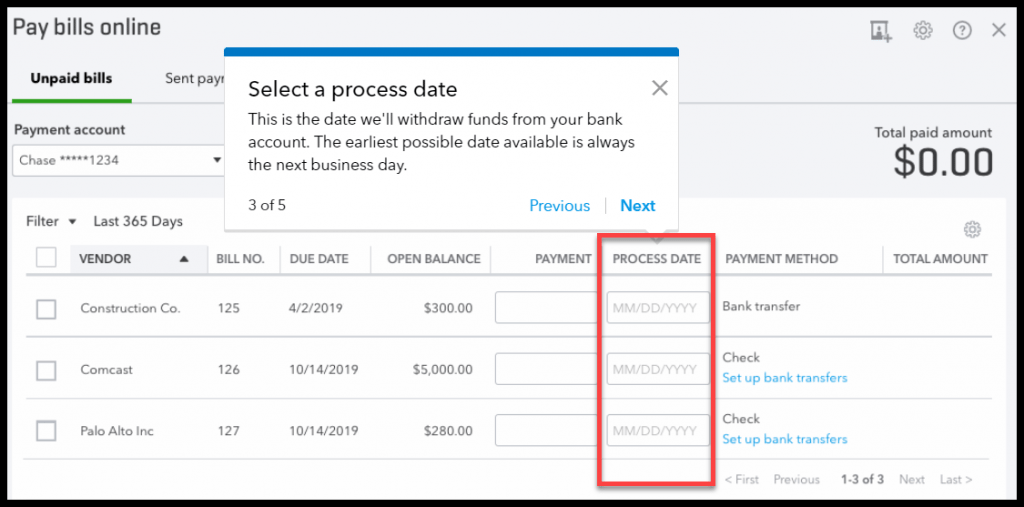 After it, you have to select the Payment Method for the bills.
Here you can select to send payment Back transfer or checks.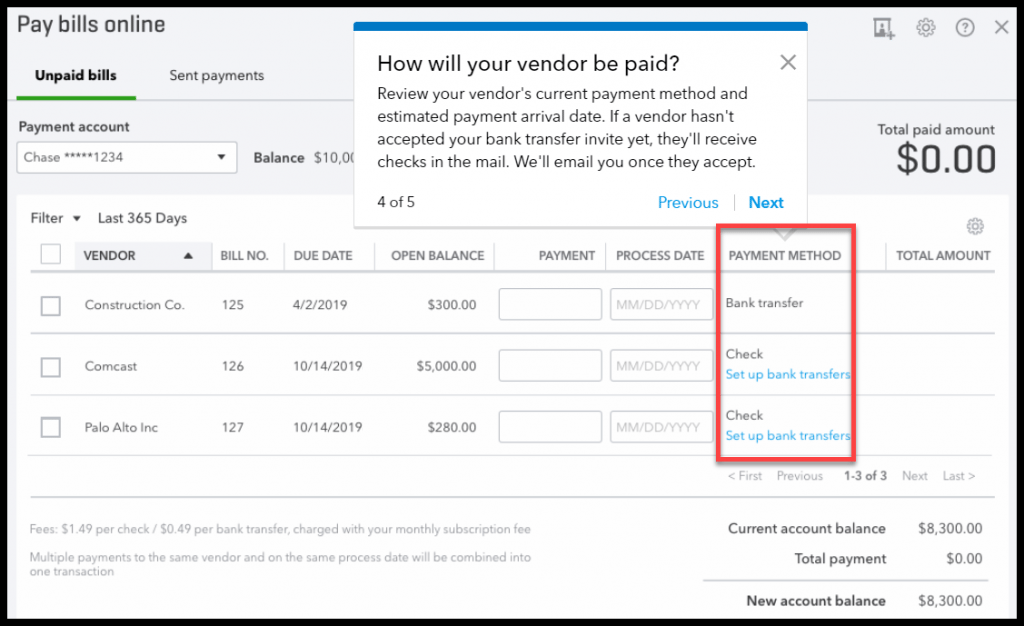 After completing all entries, click Review and Submit Bill Payment.
Then you can see paying bills in QuickBooks will automatically mark the bill as paid and no longer be outstanding. QuickBooks online bill Pay will also update the accounts payable balance to reflect the bill payment.
Bill Pay in QuickBooks via check
Navigate to pay the bill 

Click on the Create  plus sign "+" on the top part of the home page
Click on Pay bill option located in vendor column
Then Pay Bill window bill open.

Select which bill you would like to pay

Click Payment Account to post the payment.
Fill the Payment date which will be your check date.
You should have to Pay attention to any Bill notification – QuickBooks provides a summary of the bills outstanding.
Bill selection- select which bill you wanna pay.
After it, fill the name of the Payee company/individual, you will be paying.
Fill the Ref No. as simple display vendors invoice no.(optional)
Fill Due date of the Bill.
Then Open Balance as account payable balance
After it, Credit Applied (optional).
Then Payment field(optional).
Total Amount (optional).
Review Total Payment  show payment that will be made
Then Starting check number – if you are to print check now so starting check no.after it, this load into the printer. See below to print check-in  QuickBooks online.
Click Save and Print.
How to Print check in QuickBooks Online Bill pay
You pay the bills in QuickBooks through a check and if you are thinking of a particular printer to print a check from QuickBooks then there is no need for it. You can also print a QuickBooks check using an ordinary laser or inkjet printer. For which you should complete the following steps.
Firstly Print Preview.
Make sure about check no. match starting check no. entered in QuickBooks Online Bill pay.
Then click the Print option on the bottom right.
Then you will see the print window then you select the printer.
Make sure that everything prints correctly.
After then click Print.
Then a Question appears on your window Did your check print Ok?
You have to select 'Yes, they all printed correctly'.
Then 'Don't forget to sign your check'.
Confirm payment recorded in QuickBooks
To confirm register firstly click the Register menu.
Then see Review and check everything was input correctly.
After it, click on Transaction and Banking from the left hand.
Then Go to Register.
After it, you can see the created bill payment top of the list.
Then you can see here a brief description of the many fields in the QB check register such as check date, account, ref no., ref type, balance.
Note: Payment will reduce in the bank account weather you printed a check or not.
Check payment correctly applied
After confirm properly check register then you should confirm your balance reduced for that vendor of the bill is paid.
First, in the left navigation bar click on the Vendor option.
Then a list will appear on your window
After it, click on the Vendor you created a bill payment
Then you will see the bill that was paid by you.
There is also indicated PAID.
We discussed QuickBooks Online Bill Pay here. I hope you can pay bills easily and check the status of the payment in QuickBooks via check.
Read Articles…
Didn't find your solution?
Don't get stressed out? We are here for help. Find a QuickBooks ProAdvisor or CPAs who can help you get rid of your problem. Dial our toll-free number.