January 6, 2020
Posted by:

Olivia

Category:

QuickBooks
Quickbooks Online Login issues are basic encountered Issues by online users and some reasons can be numerous. If in case you are having Quickbooks Online problems, the issues can occur for flaws with your system, the internet delay issues with a particular internet service provider or the browser that you normally sign in to Quickbooks online.
Google Chrome is a popular web browser and appropriate for accounting software. Sometimes, issues may appear while attempting to login to Quickbooks online in chrome. the login issues may be different types.
Your computer screen displays a loading message in your web browser but nothing loads up. 

An error message "The services are not available" may appear on your screen.

The sign-in screen and screen to choose my company may show up in a loop.
Factors Causing Intuit Quickbooks Online Login Problems
The user did not sign out from the previous Quickbooks Online session.

when users logged in Quickbooks Online from another computer or location with the same sign-in credentials.

some firewall or antivirus may be blocking the access.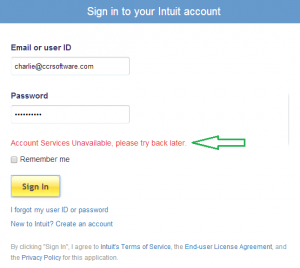 Some Basic Steps to Resolve Quickbooks Online Login Problems
Log in from a different browser Mozilla Firefox or internet explorer but intuit recommends the Chrome browser as it loads the details fast or is secure as well.

Try Sign in from Incognito mode in Chrome again and see if it works.

Clear Chrome browser history and try again.

Sign in to Google Chrome with a new user.

Shut Down your system and your wireless internet Router or DSL modern and wait for about 30 seconds and then plug the power source back into your wireless internet router or DSL modem and wait till the lights are stable or bold.

Turn on your system and then try to login Quickbooks online.
Basic Steps to Resolve QuickBooks Online Chrome login issues
Check out the following easy steps to fix QuickBooks online Google Chrome login issues:
Step 1: Use Chrome Browser in Incognito window
If you face a login issue with Chrome, you can try logging to QuickBooks in incognito mode in Chrome. When you use Chrome in incognito mode, you can browse the internet without being recorded and your online activities don't show in history either. Also, using QuickBooks Online on Chrome in incognito mode is as simple as using it in normal mode.
Here is how you can use Chrome in Incognito or private mode:
Once a Google Chrome window is up on your screen, click on "Customize and Control Google Chrome" and select New incognito window, which is the third option.

You can easily use short cut keys – "Ctrl+Shift+N".

When chrome opens in "Incognito mode" You will be able to see "Incognito" on the top.
Step 2: Clear history and cache
If the issue persists even after using QuickBooks Online in incognito mode, you can try this step. The login issue may also be caused by old history or cache as they may slow down the performance of Google Chrome when you try to open QuickBooks accounting software. Clearing history or cache can help you fix the login issue.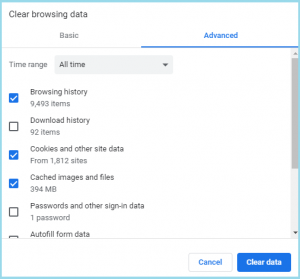 Click on "Customize and Control" Google Chrome icon on the top right and select "Settings".

Select the "History tab" on the left and click on the "Clear browsing data" button.

When you click on "Clear browsing history", several boxes will appear on the screen.

Choose the appropriate box and clear everything, including cookies, cached images and files, and other site and plug-in data.
Step 3: Create the additional Chrome User
You can also resolve the login issue by creating the additional chrome user to use QuickBooks Online. Here is how you can create an additional chrome use: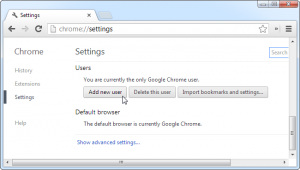 Open the Chrome web browser and select the "Settings tab" on the left.

Find the "Users" section at the bottom of the page.

Click the "Add new userbox".

Choose an icon, type a name, leave the create a desktop shortcut and click on the "Create" button.

The "New user" icon will appear on the top of your web browser. Click on it if you want to switch between different users.
Step 4: Use a different web browser
If you still face any issue in logging to QuickBooks Online in Google Chrome, try using a different browser. See if you have Internet Explorer or Firefox. You can also download them from the internet for free.
We hope that this blog post helps you to log in to QuickBooks on Google Chrome. Not being able to login to QuickBooks Online on Chrome can be frustrating and delay your work. You may also check the web browser's setting if the issue occurs while logging to QuickBooks.