What's more amazing than managing your bookkeeping with precision and you're saving your precious time too? Can't believe it? But QuickBooks provides a Live Bookkeeping service by certified bookkeepers. In this article, we will discuss all of your doubts about the bookkeepers, what the bookkeeper does, who can use the service, and how can you subscribe to QuickBooks Live Bookkeeping. Read the article to know how to become a QuickBooks Live Bookkeeper.
Save Time & Effort
Get help from expert
Get your accounting work done by experienced accountants. Fix all your accounting software errors & problems. Dial our toll-free number +1-844-405-0904.
What is QuickBooks Live Bookkeeping?
QuickBooks Live Bookkeeping is an online service where you can connect with a certified bookkeeper who manages your accounting book better. With their highly skilled knowledge and experience, there will be a minimum chance for mistakes in the organization's bookkeeping. They provide live support and ensure that your books are up to date and accurate. In this way, you don't need to worry about your bookkeeping so you can focus on other business-related tasks.
How QuickBooks Live Bookkeeping Works
As we discuss QuickBooks Live Bookkeeping, now you need to know how does it work. Let's discuss how it helps in Bookkeeping.
Start with a Clean Slate- Firstly, the bookkeepers will go through your past books to get a detailed review of your chart of accounts. They ensure that all of your past transactions are recorded correctly.
Collaborate virtually- Next step is to connect with your bookkeepers. You can schedule a video call, track their progress, or ask any bookkeeping questions from these bookkeepers.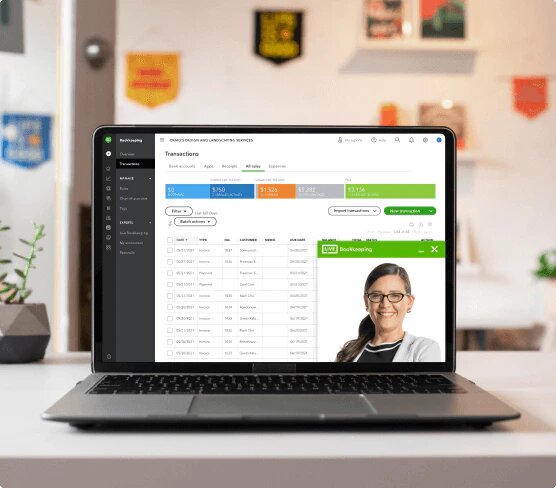 Know where you stand- Your bookkeepers will give you a clear view of your business performance by running a detailed report. This will help you to pay tax with accuracy and make the best decision.
Benefits Of Using QuickBooks Live Bookkeeping
QuickBooks users need an accountant to keep a well-managed record of their business tasks. Correct records always help you to make the right decisions for your business. So let's discuss the benefits of QuickBooks Live Bookkeeping.
Saves time- If you take bookkeeper's service, you don't need to manage your bookkeeping anymore. You can invest your valuable time in important works. Hence, it saves your time.
Reduce stress- After subscribing to membership of the QuickBooks Live Bookkeeping service, your bookkeepers ensure that your books are closed accurately every month. So that you can confidently be ready for paying tax returns.
Year-Round Confidence- There is no need to recheck the books as these bookkeepers work accurately and effectively. You will get proper records of your books that are ready to proceed.
Get Started with QuickBooks Live Bookkeeping
We have discussed how QuickBooks Live Bookkeeping service works and what are its benefits. Now we are going to discuss how you can start with it. Continue reading to learn each process.
Who can Use the Service
Before signing up for the QuickBooks Live service, you need to know you are eligible for the service or not. Let's have a look at who can not use this service.
If you don't use QuickBooks Online and have not filed taxes in the previous calendar year.
If your business is extremely complex.
If you deal in foreign or cryptocurrency.
If your personal and business expenses are heavily merged.
If you are on a trial period of QuickBooks Online.
Other Recommended Articles:

How to Setup QuickBooks Chart of Accounts
How to Manage your QuickBooks Advanced Inventory
Get the Easy Solution to Fix Quickbooks Error 6000 77
Subscribe to QuickBooks Live Bookkeeping
You can easily subscribe to the QuickBooks Live Bookkeeping with the given steps. Learn about how you sign up.
Sign in to QuickBooks as an admin.
Choose Setting from the top and select Account and Settings.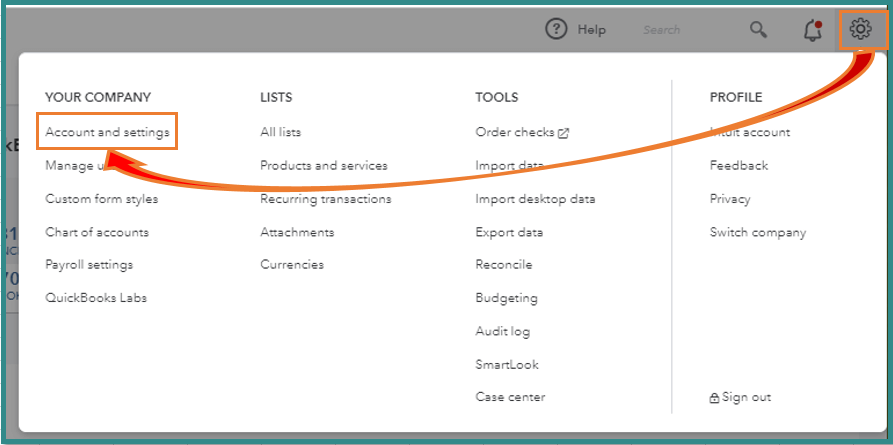 Click on the Billing & Subscription.
Under QuickBooks Live Full-service Bookkeeping, select Learn More.
Click on the Get Started button.
Review or update your billing information.
Hit the Subscribe button.
How to Schedule an Appointment
After subscribing, you need to schedule an appointment with the bookkeeper. During the appointment, they need to know about you and your business, so they clean up your past books. They clean up the books from the last tax filing up to you subscribe. It is a long process and can take around 1 month.
After the cleanup process, a new bookkeeper is assigned to you who manages your books. Let's see how you can schedule an appointment for your bookkeepers.
Sign in to QuickBooks.
Select My Experts from the top-right menu.
Choose Live Bookkeeping and then select Schedule appointment.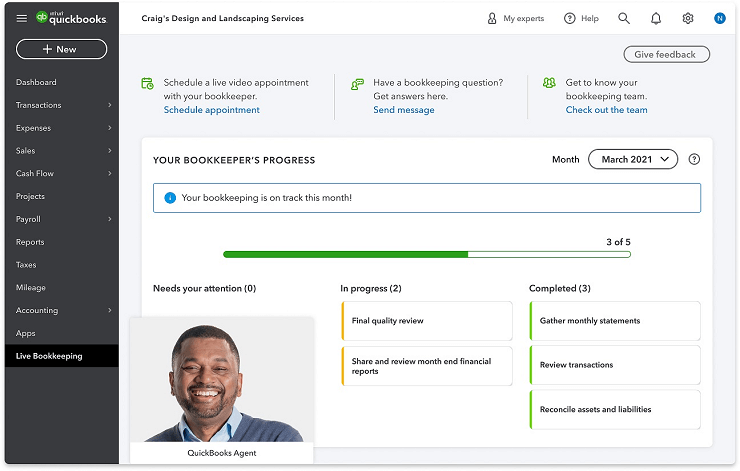 Now fill in the required info and choose the appointment time.
When you are done, you will get a confirmation mail and SMS that your appointment is booked.
What is the cost of QuickBooks live
If your QuickBooks has at least 2 months of data, there is a flat fee for cleanup and setup for the first month. After the first month, charges depend on the average expenses of your company in QuickBooks. The starting price of Full-Service bookkeeping is $200/month after 1 month of the flat cleanup fee.
How to Become a QuickBooks Live Bookkeeper
If you are thinking to become a QuickBooks Live Bookkeeper, you need to keep some points in your mind. Here in this section, we have mentioned how to become a QuickBooks Live Bookkeeper.
You need an active QuickBooks Online ProAdvisor certification.
You should have a minimum of one year of experience with QuickBooks Online.
You need one of the following credentials to become a QB Live Bookkeeper.
Bachelors degree in Accounting/Finance
Active Certified Public Bookkeeper
Active Certified Public Accountant
Having 3+ years of experience in managing books for a small business.
Should be expert in customer service skills, and must have the ability to interact with the clients professionally through video.
In this article, we cover all about QuickBooks Live Bookkeeping. Now you are ready to subscribe for QuickBooks Live Bookkeeping and connect to a bookkeeper to reconcile your accounts, close your books, and categorize your expenses to know your business performances better. For any further assistance or guidance call our certified QuickBooks ProAdvisor at our toll-free number +1-844-405-0904.
Didn't find your solution?
Don't get stressed out? We are here for help. Find a QuickBooks ProAdvisor or CPAs who can help you get rid of your problem. Dial our toll-free number.