Last Updated on October 15, 2021 by Editorial Team
Want to be a good, and perfect QuickBooks Certified ProAdvisor? Well, it is a good decision for a great and bright future because, everybody knows that, what is the demand for a QuickBooks certified expert. If you prefer this career then, you should keep some points before going for it like the QuickBooks certification cost, plan, force, and etc.
Save Time & Effort
Get help from expert
Get your accounting work done by experienced accountants. Fix all your accounting software errors & problems. Dial our toll-free number +1-877-355-0435.
Let's start the blog for more details:
Let's start with a small intro about, who is Proadvisor? QuickBooks ProAdvisor is familiar with the QuickBooks product line that has joined the QuickBooks ProAdvisor program and has passed a certification exam. Let see the further process and the cost to become a ProAdvisor.
QuickBooks Certification Cost
Did you know that becoming a QuickBooks ProAdvisor is completely free as well as all the study materials and exams from QuickBooks? One of the best platforms to validate their QuickBooks knowledge by becoming a Certified Proadvisor.
To become a certified QuickBooks Online ProAdvisor, you must successfully pass the QuickBooks Online ProAdvisor certification exam by scoring 80 percent or better. Most people should plan for at least 12 to 16 hours of study to prepare for the exam. So the candidates can showcase their skills to pass in their initial attempt. You can also appear for the exam multiple times if you don't pass on your initial attempt.
Types Of QuickBooks Certification & Courses
QuickBooks arranged its certification and courses in 4 different types. Here we have given all the courses below. have a look, and choose any one of them for your course.
QuickBooks Online

QuickBooks Online Certifications

Learn about how to Setting up clients
Navigating your clients "QuickBooks Online".
Learn more about Banking, Tools, and payment management
Get vast knowledge to troubleshoot the problems.
Find out more about time-saving apps, reports, and more.

QuickBooks Online Advanced Certified

Live experience in using QuickBooks Online Accountant and supporting QuickBooks Online customers.
Understand the complex problems and scenarios that can occur when converting to QBO.
Understand the advanced optimization and workflows available in QBO.
Understand and use special transactions to meet client workflows
Advanced topics related to QBO bank feeds and reconciliation logic, as well as troubleshooting.
Evaluating the health of QBO data along with troubleshooting the common mistakes of QBO clients does.
All these points will definitely help you to find out all the task performed in this QB online certification courses and the detailed information about the ProAdvisor certificate courses
How to Access QuickBooks ProAdvisor Certification Courses
We hope, now you are cleared and decided which course will be suitable for you. If so then, go for the access procedure.
If you work strictly using QuickBooks Online, then you can access the free online program using the steps given below:
Go through the "Training" tab, and then, log into QuickBooks Online Accountant using your ProAdvisor user ID and password. Once you have done this, follow the steps below.
After that, The ProAdvisor Training tab list will be available with all training modules. Although, you can also download certificates via given steps.
At first, select the "ProAdvisor" option from the left menu, under the Practice section.
Select the "Training" tab.
You can also select the "Resume" option to continue any previously started course.
Read out the features of the available course listed to choose the best one that fulfills all your needs.
Select one option that suits you in the available training options to display the training card for each module in the course.
After that, click on the "Get started" button to begin a course and follow the on-screen instructions to complete it.
When you are all set to complete the certification exam, just select the "Take Exam" option.
Regardless of whether you choose the free or paid version of the program, ProAdvisors, even all of its QuickBooks programs training is available on-demand online throughout the year.
How to Access Certification History
Therefore, go through these steps to download and print the badges and certificates after completing the course. Here's how you can access the certificates:
First, log in to QuickBooks Online Accountant through the official Intuit login page.
After that select the ProAdvisor option, from the left menu. Here you'll see all the available certifications.
Now, select the "Training" tab.
Then, select Certified and choose the "Download badge" or "Download certificate" button. If you are looking for a current certification, badge, or exam.
If you are looking for a previous certification, you can select the "Training" and "Certification History" option.
Steps to Navigate Training & Certification Screen
By navigating the training and certification screen you can understand the history screen easily.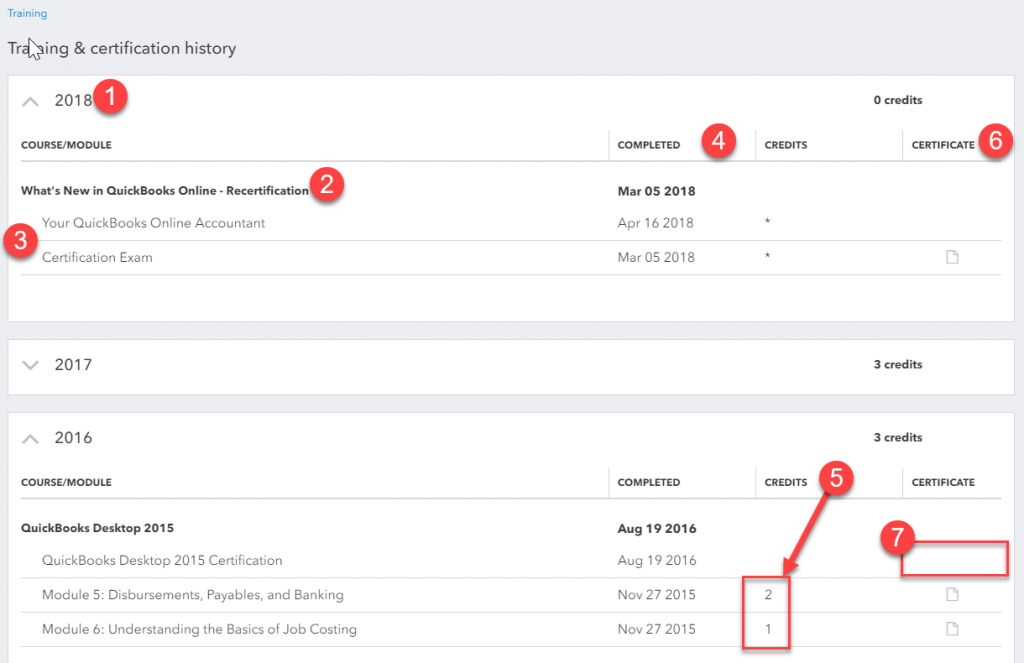 You can navigated the certification history, by bucketing the certification completion year.
And the course certification appear in the hold.
You can see the course module in the below of certification.
The corresponding module and certification will be bucketed based on the completed certification date.
Key Features Of QuickBooks Online Certificate
Features in QuickBooks Online can literally change overnight. If you're an accounting professional, becoming QuickBooks certified is one of the best decisions for your career and for your business growth.
There are numerous benefits of being QBO ProAdvisor. Such as:
1. QuickBooks Online Accountant
QuickBooks Online Accountant is truly designed to empower professionals like you. With the facilities and resources available only to accountants and bookkeepers, you can develop and run your practice, in your own way.
By signing up for any version of the ProAdvisor program, you'll automatically unlock ProAdvisor resources that really help to enhance your clients and skills. And get a free QBOA firm company.
Advantages of Accountants are:
Make your processes worthy: QBOA gives you the tools to manage your books – from invoices to payroll and timesheets and offers a range of easy-to-use features to help streamline your processes.
Easy to manage your clients: QBOA also provides a range of tools to easily manage your customer's books and add value. Such as – send messages, notifications, documents, and even customized reports also, without leaving your workflow.
Data safety: QBOA uses advanced technology and industry-recognized security safeguards to keep your and your's client data private and protected.
Growth of knowledge: As you know, QBOA comes with free online software training. So, you can choose your preferred learning style as well.
Connect with new clients: By signing up for QBOA, you receive a free membership to the QuickBooks ProAdvisor program. And get an add-on feature to add your profile to the ProAdvisor directory. Where thousands of small businesses are visited every month on the hunt for an accountant.
2. Certification Courses
QuickBooks online certification is a great way to grow your practice and help you to serve better to your customers. In addition, QuickBooks Online certifications also give the privilege of free membership. As Deluxe and Premium, these two types of membership access by Desktop users.
Unlock New Features After Certification
Generate more leads with Find-a-ProAdvisor
Up-to-date knowledge to better serve your clients
Unlock Unlimited U.S.-Based Phone Support
Get CPE credits at no additional charge
Use your certification badge to grow your business in the market place
3. Some Additional Benefits
This program offers some additional benefits which are as follows:
Get productivity tips and tricks
Through your vast knowledge, you can win gold, silver, and elite membership.
Get special guides, templates and marketing resources of the new Intuit market, used only by ProAdvisor
Improve your business with the help of workshops and practice sessions
How Much Does It Cost to Get QuickBooks Certified
QuickBooks certified has the option to be certified or upgraded in QuickBooks Online, QuickBooks Desktop, and QuickBooks Enterprise Solutions. The cost to take this exam is US $149 + additional charges have to be given also at the testing center of your choice.
Although, QuickBooks Online Accountant comes with a free ProAdvisor program membership for accountants. If you want advanced certification, allow yourself enough time to study and take the exam.
Note: The QuickBooks ProAdvisor online exam time duration is 2 hours. And there is only 4 chances or attempts per person to clear individual section. It must score a minimum of 80% to pass this exam.
Best Things to Learn in Certification Program
Here are some points listed in below, which are the best things to learn in the certification program
Working on the data conversion process
How to create a file using open balance
Learn about Advanced payroll feature
How unusual transactions were processed
How to handle the adjustment transaction in your client's file
Detailed knowledge about manage users and company settings
How to manage a table of accounts
Bank rules and advanced facility for online banking
Budget setups facility
Latest Tips and Tricks for your business growth
The End Line
At the last of the article, we just want to say that, QuickBooks Certified ProAdvisor is a good choice for a bright future. Just choose the course according to your requirements and yes the cost is worth for QuickBooks Certification. Hope you like this article, and here we want to inform you that, you can get our Accountwizy support for any kind of QuickBooks problems.