Confused about how much does it cost to get QuickBooks Certified? Is it worth getting certified? How long does the process take time? If you are having the same questions in your mind, then you are in the right place. In this article, we will discuss QuickBooks Certification cost, features, and steps to access the course.
Save Time & Effort
Get help from expert
Get your accounting work done by experienced accountants. Fix all your accounting software errors & problems. Dial our toll-free number +1-844-405-0904.
Intuit provides an opportunity to become a QuickBooks ProAdvisor by passing its special certification exam. The program helps you boost your QuickBooks knowledge and expertise. Stand out from the herd by improving your skills as well as getting a certification. Let's discuss the all costs you need to pay during your training to certification period.
How much does it cost to get QuickBooks Certified
Intuit hadn't declared officially the exact certification cost, so it is difficult to determine the actual cost. But we can provide you with an approx estimate about the cost you will need to pay for the course and certification exam.
QuickBooks Online certification exams and study material are free. For becoming the QuickBooks ProAdvisor you need to clear the exam with a minimum score of 80%. You can prepare for free from QuickBooks Online ProAdvisor Certification exam questions or can have special classes from QuickBooks. These special classes are provided on a chargeable basis. Special classes and their charges are described below:
Self paced class- In QuickBooks self paced classes, you don't need to attend classes at a particular time. This didn't ask you to attend live classes so you can study anytime. But you have to complete the course in the given timeframe. The cost and benefits of self paced class are as follows:
The cost of Self paced class for QuickBooks Certification is $579.95.
It includes a testing fee w/1 retake ($156 value).
It allows you to complete your self paced class in 2 days.
2. Live class- In live classes, you will take real-time classes from experienced tutors. You can ask your doubts on the spot. The cost and benefits of QuickBooks certification live classes are as follows:
The cost of Live classes for QuickBooks ProAdvisor Certification is $679.95.
It allows you to take 1 exam w/1 retake ($156 value).
You can take 2 days of live classes.
If you need any support or have any doubt, you can ask for it during live classes.
3. VIP membership- For extra support, you can go for VIP membership. This membership includes monthly webinars and live question/ answers sessions every weekday for 30 days. The cost and benefits of VIP membership are as follows:
The one-time fee for VIP membership is $679.95 for 30 days. If you want to continue after that you need to pay charges of +$29.95 per month.
It gives access to 5 exams w/1 retake.
You can get double benefits of Self paced class + weekly certification preparation course at one course.
Help & support are available at 44 hours per week.
How Many Types of QuickBooks Certification are There
QuickBooks offers four types of QuickBooks Certification courses. Each course has its own features and costs differently. You can choose the course whichever you find fit for you.
What you Need to Know Before Certification Exam
We are going to discuss what are the criteria to qualify for the certification to become a ProAdvisor. Read the points and get ready.
You can attempt the sections in any order.
You must gain at least 80 % marks in each section.
You have four attempts to pass each section.
After the first attempt, you will be given only those questions whose answer was incorrect.
If you Didn't pass the exam in the first four attempts, you are locked for 2-12 months depending on the plans you choose. You can reattempt the exam after unlocking.
It is an open book exam, so feel free to use your study materials.
Join a QuickBooks Certification Class
As we discussed, QuickBooks provides three types of classes to prepare for the certification exam. Self paced, live, and Vip membership classes. Here we provided how you can find and join the classes.
To sign up, click on the link to visit the QuickBooks certification page. Choose the version you want to learn, either QuickBooks Desktop or QuickBooks Online. After that, read the instructions to join:
Sign up for the Self Paced Class
Study anytime according to your choice. Follow the procedure to join the self paced class.
After selecting the version click Learn more button under self paced class.
Hit the Add to cart button.

Enter your required information and select the Next button.
Add required payment information and hit Confirm and pay button.
Sign up for the Live Class
Take benefits of live classes and prepare yourself to score better. Sign in to the live classes with the following procedure.
After choosing the QuickBooks certification version, click Learn more button under the live class.
You will redirect to the page where you can choose the live classes from many upcoming classes.
Click the info button to read the classes information and find a better one for you.
Click on the Sign-up button next to the class you want to take.
Enter your required details and hit Add to cart button.
At last, follow the on-screen instruction.
Sign up for the VIP Membership
VIP member provides some additional benefits. It provides unlimited access to the QuickBooks training library for a lifetime, including all the new updates. You can join the class from the given steps.
After choosing the QuickBooks version, click Learn more button under the VIP membership.
Click on the Add to cart button.
Enter your required information and select the Next button. 
Add required payment information and hit Confirm and pay button.
Other Recommended Articles:

How to Fix QuickBooks Error 1723?
Is your QuickBooks Online Not Working
QuickBooks Multi-User Mode Not Working (Single User Unable to Switch to Multi-User Mode)
Access QuickBooks ProAdvisor Certification Course
After choosing what QuickBooks certification course you are going with, you need to learn how to access it. Here is how you can sign up for training, exam and download the certificate.
Start the Training
You can take training with QuickBooks before taking the exam. You just need to follow the given steps.
Sign in to QuickBooks Online Accountant.
Under the Practice section, select the ProAdvisor option from the side menu.
Click on the Training tab.
You can also select the Resume option to continue any previously started course.
Read and choose the best course for you and click on Start.
Take the Certification Exam
After taking the training classes, now you are ready to go ahead. Take your certification test by following the below steps.
Sign in to QuickBooks Online Accountant.
Under the Practice section, select the ProAdvisor option from the side menu.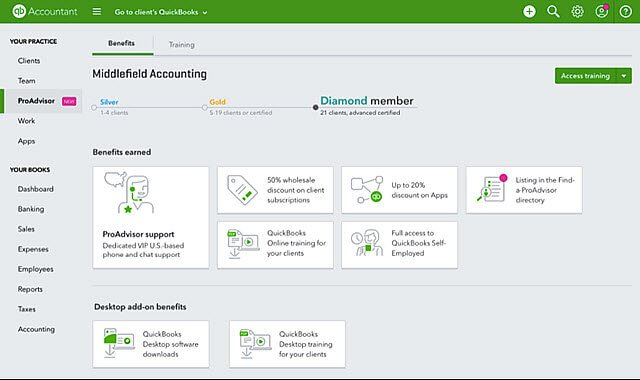 Select the Training tab.
Choose the certification you want to take.
Click on the Take Exam button.
Access your certificate
When you take the exam, it's time to download your certificate. Download and print your certificates and badges from the below steps.
Sign in to QuickBooks Online Accountant.
Click on the ProAdvisor menu, under the Practice menu.
Choose the Training tab.
Then select the Download badge or Download certificate button. If you are looking for a current certification, badge, or exam.
If you are looking for a previous certification, you can select the "Training" and "Certification History" options.
Navigate your Training & Certification Screen
This navigation of the training and certification screen helps you better understand. Let's have a look at this.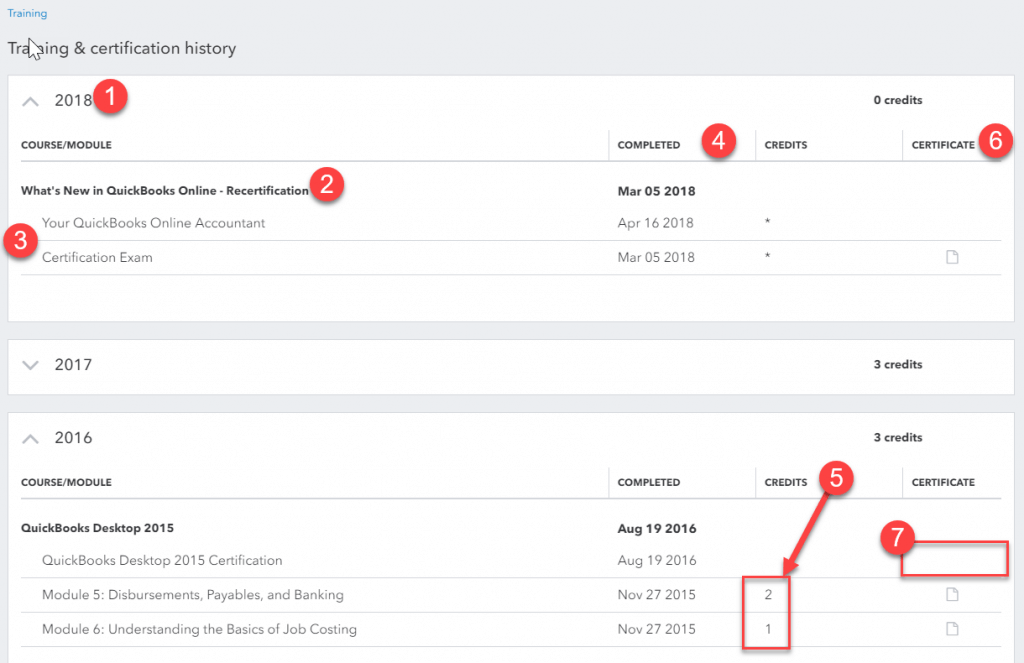 At the top, your certification completion year is mentioned.
Your courses appear in bold text.
Course modules appear below the course.
The completion date of the courses and all the modules are mentioned.
Credit shows the CPE credits earned by each qualified course module.
It shows confirmed CPE credits, delivery method, and field of study.
Certificates only show active ProAdvisor certificates. If there is no active certification available, the certification icon will be removed.
What you will Learn in Certification Program
In the certification program, you will learn many new features and skills. Some of the key things are listed below.
Working on the data conversion process
How to create a file using open balance
Learn about advanced payroll feature
How unusual transactions were processed
How to handle the adjustment transaction in your client's file
Detailed knowledge about managing users and company settings
How to manage a table of accounts
Bank rules and advanced facility for online banking
Budget setups facility
Latest tips and tricks for your business growth
Why Get Certified
QuickBooks Certified ProAdvisor is a whole new chapter of your career full of standard levels of knowledge and skills. Let's have a look at some key benefits of QuickBooks Certification.
Advantages of QuickBooks Online Accountant- QuickBooks Online Accountant is designed for professionals like ProAdvisor, accountants, bookkeepers. It is an additional feature to other QuickBooks products. This version of QuickBooks allows you to access your client's account. It is completely free to sign up. By signing up for any version of the ProAdvisor program, you will automatically unlock ProAdvisor resources that help to enhance your clients and skills.
High Ranking with more benefits- You will earn points that help you to unlock the levels and expand your business. The more points you earn, the more benefits you get. This is a very useful tool to better serve your clients and expand your reach. Its benefits include product support, discounts, and training opportunities. Based on the points collected, the profile ranked as Silver (0-199 points), Gold (200-799 points), Platinum (800-1599 points), and Elite (1600+ points).
ProAdvisor Profile- QuickBooks certification provides access to outstanding marketing materials that help you to generate leads, stand out from the competition, and develop your brand. Certification badges indicate that you are a QuickBooks ProAdvisor, which increases your credibility.
In this article, we have discussed all you need to know about QuickBooks Certification. Now you are ready to proceed in the QuickBooks Certification program. If you still have any doubt, connect with QuickBooks ProAdvisor. Dial our toll-free number +1-844-405-0904 and get instant help.
Didn't find your solution?
Don't get stressed out? We are here for help. Find a QuickBooks ProAdvisor or CPAs who can help you get rid of your problem. Dial our toll-free number.