Last Updated on by Editor Team
QuickBooks accounting software is one such financial accounting tool that has become a boon to small and medium businesses. Various businesses use different payment methods to serve their customers in a much better and efficient way. Not only that, with QuickBooks, you can easily maintain books of accounts, inventory, invoices, as well as make payments to vendors/suppliers and pay tax, etc.
If you are using Square for your sales transactions, it is possible to sync Square with QuickBooks that will make tasks much easier and time-saving for you. Thus, with a few simple steps, we will show you how you can do Square QuickBooks Integration.
Save Time & Effort
Get help from expert
Get your accounting work done by experienced accountants. Fix all your accounting software errors & problems. Dial our toll-free number +1-877-715-0222.
Features Offered When You do Square Integration With QuickBooks Online
When you connect Square to QuickBooks, it offers many features to users of small or medium business to benefit from. Some of these features include:
Users can automatically import invoices, payments and deposits from Square into their QuickBooks Online accounting tool without the need for additional software.
Data can be entered in such a way that credit card payments are batched together as deposits and thus, be easily reconciled.
Details of items and sales data include taxes, discounts and tips are preserved, provided the item names exist within QuickBooks Online.
Import of refunds is possible.
You can import transactions data of up to 18 months in QuickBooks Online with the help of Square.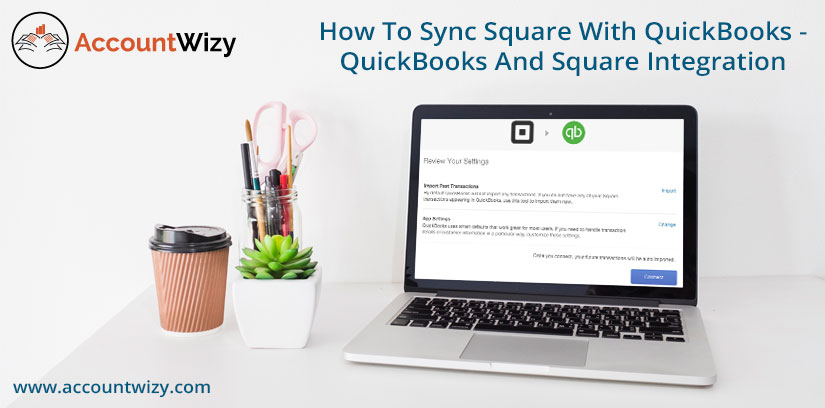 Key points for Installing Commerce Sync
It is important to follow key points for installing Commerce Sync alongside QuickBooks Online:
When installing Commerce Sync, you will be required to log into your computer that has QuickBooks Online Support.
The QuickBooks Desktop accounting tool that you are installing Commerce Sync on needs to be running Windows 7, 8, 8.1 Pro or 10.
Note: Commerce Sync is currently not supported in Mac.
The most compatible web browsers that can be used are Firefox or Chrome.
The QuickBooks company file you wish to sync must be open during installation.
You are required to sign in as Admin and in single-user mode, in QuickBooks, for the installation to work correctly.
It is advised that you restart your desktop prior to installing Commerce Sync application.
Let's move on towards Square QuickBooks Integration with QuickBooks desktop!
Steps For installing Commerce Sync On Your Desktop
The steps given below will help you quickly install Commerce Sync app on your desktop machine:
1. First of all, you have to sign in to your Square account.
2. In your Square account, click on the Apps option.
3. Scroll down and search for Commerce Sync, then click Get Started or Launch the app.
4. On the Permissions pop-up, click Allow on the bottom.
5. If you have several locations in your Square account, connect Commerce Sync to each location manually. Then select the location that you are currently connected to.
6. Download the Commerce Sync installer online.
7. When the Commerce Sync installer has finished downloading, open the program and click Run.
8. You will see the Starting up screen when launching Commerce Sync for Desktop.
9. Here, you are required to log in again to your Square account.
10. Before clicking the Continue button, double-check that you have QuickBooks Online and the correct company files open on your desktop screen.
11. In QuickBooks, you will see a pop-up. Check the box next to Yes, always allow then click Continue.
Note: When you are installing another location, this step is skipped.
12. Click the Done button on the second pop-up.
13. Now you have to choose your settings for Commerce Sync: the time zone in which your Square account is present, whether you would like to transfer sales into a single income account or according to category etc.
14. Fill up billing information carefully. Your free 15-day trial will be started. Your customer's sync subscription will begin after 15 days.
15. You will see the Installation complete message on the screen and then click the View Dashboard button.
16. At this time, we suggest that you open the Commerce Sync for Desktop app immediately and wait for the sync to complete. The green permit will stop spinning and the next sync Timestamp will be shown.
17. As soon as the sync is completed, open the Commerce Sync web dashboard to review your settings.
Limitations of Sync Square with QuickBooks
While QuickBooks and Square are more powerful together, it is most important to understand some of the limitations of the Square QuickBooks Integration. Some of these limitations are:
You can't import buyer details such as their names or email addresses. While viewing the data, these are seen as Square Customer.
A summary of daily transactions is not available. Currently, daily transactions come through one after other after having a proper settlement.
Transactions need to be reviewed before getting proceeded to be imported.
A user cannot pay a QuickBooks invoice using Square.
There may be finite functionality for multi-location businesses. It is based on how they are set up. Sync with Square is the best application for you if your position operates under one QuickBooks account.
The fees accounted for when Square pays out to your bank account helps to generate a deposit.
Square for QuickBooks Desktop Support is not available yet.
Square sails are imported as invoices and payments in QuickBooks.
Sync Square With QuickBooks Are Better Together
When both are synced, transactions from Square automatically appear within QuickBooks.
Avoid manual data entry: Avoid tension of manual data entry now because from sales, fees, taxes till discounts everything is imported automatically into QuickBooks overnight, saving your precious time.
Easily reconcile your books: Sync features help to help to keep your books up to dates such as your deposits, payments, refunds, and fees are matched against your bank statement.
View all your fees in one place: It shows you all your payment processing fees associated with Square.
Invoices are created automatically: Sync feature automatically creates invoices.
That's all in this article, I hope you find it useful.
Didn't find your solution?
Don't get stressed out? We are here for help. Find a QuickBooks ProAdvisor or CPAs who can help you get rid of your problem. Dial our toll-free number.