Last Updated on February 16, 2021 by Editorial Staff
Want to make your business more flexible and easy to use? If you think so then, sync Square with QuickBooks. Yes, integration of QuickBooks accounting software with Square can help you to make your business more flexible by importing your sales, and expenses automatically. If you are interested to know more about this integration then, stay connected with us, and read the blog, 'Square QuickBooks Integration' carefully.
Save Time & Effort
Get help from expert
Get your accounting work done by experienced accountants. Fix all your accounting software errors & problems. Dial our toll-free number +1-877-355-0435.
Before proceeding towards the blog, here we have a question for you that, 'Have you ever listen about the Square software or if you already know the Square, and using it then, why don't you sync with QuickBooks?'. Integrating QuickBooks with Square can change the way of the growth of your business. And if you are using Square, and QuickBooks separately then, its time to sync them. Let's read the blog to clear about it:
Feature Benefits of Square QuickBooks Integration
When you connect Square to QuickBooks, it offers many features to users of small or medium business to benefit from. Some of these features include:
Users can automatically import invoices, payments and deposits from Square into their QuickBooks Online accounting tool without the need for additional software.
Data can be entered in such a way that credit card payments are batched together as deposits and thus, be easily reconciled.
Details of items and sales data include taxes, discounts and tips are preserved, provided the item names exist within QuickBooks Online.
Import of refunds is possible.
You can import transactions data of up to 18 months in QuickBooks Online with the help of Square.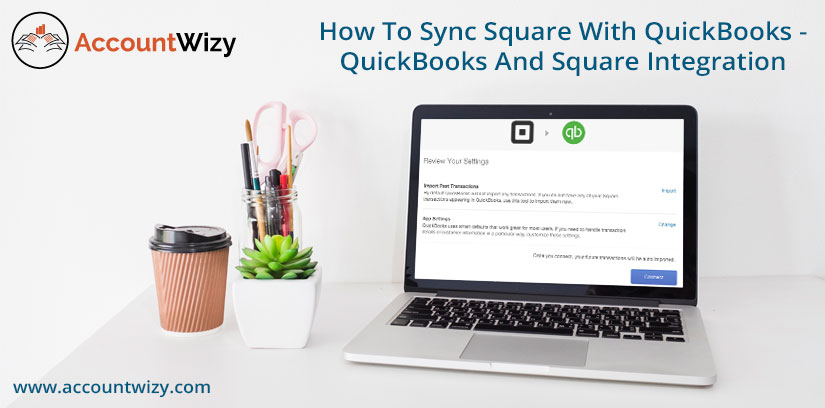 Key points for Installing Commerce Sync
It is important to follow key points for installing Commerce Sync alongside QuickBooks Online:
When installing Commerce Sync, you will be required to log into your computer that has QuickBooks Online Support.
The QuickBooks Desktop accounting tool that you are installing Commerce Sync on needs to be running Windows 7, 8, 8.1 Pro or 10.
Note: Commerce Sync is currently not supported in Mac.
The most compatible web browsers that can be used are Firefox or Chrome.
The QuickBooks company file you wish to sync must be open during installation.
You are required to sign in as Admin and in single-user mode, in QuickBooks, for the installation to work correctly.
It is advised that you restart your desktop prior to installing Commerce Sync application.
Let's move on towards Square QuickBooks Integration with QuickBooks desktop!
Limitations of Sync Square with QuickBooks
While QuickBooks and Square are more powerful together, it is most important to understand some of the limitations of the Square QuickBooks Integration. Some of these limitations are:
You can't import buyer details such as their names or email addresses. While viewing the data, these are seen as Square Customer.
A summary of daily transactions is not available. Currently, daily transactions come through one after other after having a proper settlement.
Transactions need to be reviewed before getting proceeded to be imported.
A user cannot pay a QuickBooks invoice using Square.
There may be finite functionality for multi-location businesses. It is based on how they are set up. Sync with Square is the best application for you if your position operates under one QuickBooks account.
The fees accounted for when Square pays out to your bank account helps to generate a deposit.
Square for QuickBooks Desktop Support is not available yet.
Square sails are imported as invoices and payments in QuickBooks.
Sync Square With QuickBooks Are Better Together
When both are synced, transactions from Square automatically appear within QuickBooks.
Avoid manual data entry: Avoid tension of manual data entry now because from sales, fees, taxes till discounts everything is imported automatically into QuickBooks overnight, saving your precious time.
Easily reconcile your books: Sync features help to help to keep your books up to dates such as your deposits, payments, refunds, and fees are matched against your bank statement.
View all your fees in one place: It shows you all your payment processing fees associated with Square.
Invoices are created automatically: Sync feature automatically creates invoices.
That's all in this article, I hope you find it useful.
Procedure For Square QuickBooks Integration:
Follow the below procedure for different activities:
Steps For installing Commerce Sync On Your Desktop
The steps given below will help you quickly install Commerce Sync app on your desktop machine:
First of all, you have to sign in to your Square account.
In your Square account, click on the Apps option.
Scroll down and search for Commerce Sync, then click Get Started or Launch the app.
On the Permissions pop-up, click Allow on the bottom.
If you have several locations in your Square account, connect Commerce Sync to each location manually. Then select the location that you are currently connected to.
Download the Commerce Sync installer online.
When the Commerce Sync installer has finished downloading, open the program and click Run.
You will see the Starting up screen when launching Commerce Sync for Desktop.
Here, you are required to log in again to your Square account.
Before clicking the Continue button, double-check that you have QuickBooks Online and the correct company files open on your desktop screen.
In QuickBooks, you will see a pop-up. Check the box next to Yes, always allow then click Continue.
Note: When you are installing another location, this step is skipped.
Click the Done button on the second pop-up.
Now you have to choose your settings for Commerce Sync: the time zone in which your Square account is present, whether you would like to transfer sales into a single income account or according to category etc.
Fill up billing information carefully. Your free 15-day trial will be started. Your customer's sync subscription will begin after 15 days.
You will see the Installation complete message on the screen and then click the View Dashboard button.
At this time, we suggest that you open the Commerce Sync for Desktop app immediately and wait for the sync to complete. The green permit will stop spinning and the next sync Timestamp will be shown.
As soon as the sync is completed, open the Commerce Sync web dashboard to review your settings.
Step to Sync Square QuickBooks Integration:
Here are three steps to sync square QuickBooks Integration, you have to carefully follow the steps:
Set Up the QuickBooks:
In the first step, we have to set up the QuickBooks to sync Square into it, and to set up it, we have to make some changes in it like; connecting of bank account, turn on of sales tax center, creating of new accounts in QuickBooks, and etc.
Connect the Bank Account that you use in Square:
Follow the steps to connect the bank account:
First of all, open QuickBooks and go for the 'Banking' menu.
After that, select the 'Add Account' option.
Then follow the steps to add the account that you use to process square sales payments.
Turn On the Sales Tax Center:
If you have not turned on the sales tax center, follow the procedure to turn on it:
Go for the 'Taxes' menu, and select the 'Sales Tax' tab.
After that, select the 'Set Up Sales Tax' option.
Now you can follow the onscreen instructions to set up the feature. But be sure, here you need to add the same sales tax agencies which you use for square transactions earlier.
Import the product and services of Square:
Visit for Square and export the products and services as a .csv format.
And again visit for QuickBooks, and select the 'Products and Services' menu, import the list.
Get The App:
Log into QuickBooks Online.
Then from QuickBooks Online app store go for the 'Sync with Square' page.
Now in the 'Sync with Square' page, you can see an option for 'Get App Now', click on it.
From the drop-down menu, choose the company that you want to connect.
Then go for the Square account and log into it with the same sign-in information of Squareup.
Select the Bank and Expense accounts from the primary settings window. After that choose the default payment method. Go for the 'Set Up QuickBooks' click on the 'Save Changes' when you are done.
Now you can edit any settings, on the following screen.
Get Transactions:
There is no need to create new square transactions in QuickBooks manually because, all the square transactions will be automatically downloaded by QuickBooks, after connecting the app into Quickbooks Online. At the end of the day, QuickBooks download the transactions automatically once a day. But make sure about the duplicate transactions.
Manage the Settings:
If in case, there is any need to edit settings, after connecting the app into QuickBooks, then you can do it manually, by following the below procedure:
Sign in to the QuickBooks online company, and click on the 'My Apps' option.
After that, click on the 'Settings' option under the 'Sync with Square'.
Change the default bank, expense accounts, or the payment method, by click on the 'Edit' option near to the Basic settings.
Update the income account, sales tax code, by clicking on the 'Edit' option near to the 'Defaults'.
At last, select the 'Save Changes' option to save all the things.
Connect QuickBooks Online to Square:
Connect QuickBooks Online to Square merchant account to download the sales transactions prepared through square, and now to do it, follow the below steps:
Go to the left menu, and select the 'Apps' option.
After that, from the top, select to Find apps option.
In the search apps field, insert square and click the 'Sync with square' option.
Now click on the 'Get Now Apps' option.
Complete the process by following the on-screen instructions, and make sure that, you have allowed Intuit to enter the square account.
Winding Up
So, here was the article, about the Square QuickBooks integration. We tried our best to put information in this article, hope you like it, and all the procedures are simple for you to follow. Still, if you are facing problems to integrate QuickBooks with Square then feel free to connect with Accountwizy ProAdvisor support. The experts will help you to solve your problem instantly with the best effective solution.