Last Updated on by Editor Team
Due to any reason if you lost your Quickbooks Desktop password and want to recover it then you should immediately download Quickbooks Automated password reset tool.
If you want to know how you can download, install and use the automated password reset tool to secure your Quickbooks company file or any other essential data then read this post carefully.
Save Time & Effort
Get help from expert
Get your accounting work done by experienced accountants. Fix all your accounting software errors & problems. Dial our toll-free number +1-877-715-0222.
How to use Quickbooks automated password reset tool
Automated reset password tool is used to reset QuickBook admin Password of your QuickBooks Desktop version or QuickBooks Point of Sale version. After resetting the password you can easily access your company file with a newly created password.
Remember: If your QuickBook product version is 2020 or higher than you can reset your password within the product.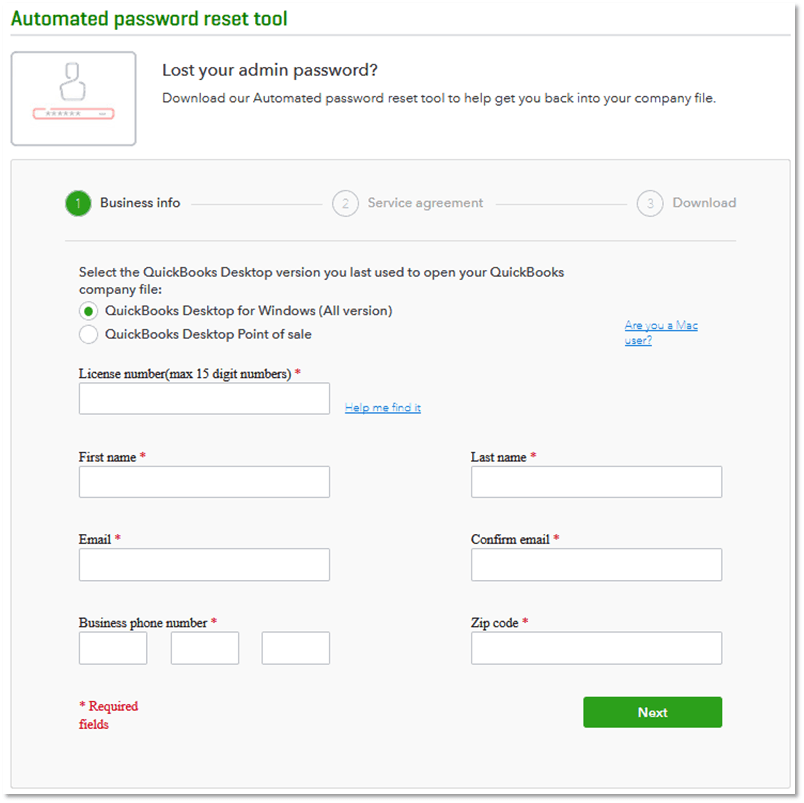 Steps to reset QuickBooks Admin Password with the help of automated password reset tool
First, you need to open this like https://passwordreset.quickbooks.com/app/qbdt/passwordreset in your browser.
Select your product and version that you want to reset the admin password.
After that fill the details that it required like your product version, license number, first name, last name, Email, Business phone number and zip code.
Accept the License agreements.
Now click on next.
If your entered details are not matched than fist confirm your login details by Log on this link https://camps.intuit.com with your Intuit account.
Here check your details like user name, E-mail address your Licence number and phone number.
These all information is the same as you provide in your systems QuickBooks Desktop software's account
Enter the correct information and click on next again.
The tool is downloading starts automatically if it does not start downloading then click on Download Now button.
It asks for Save the file or Runs, you can choose any of one but we recommended to select save the file.
Now save the file on the desktop and run it.
Now check your registered Email, a password reset token will be sent on your mail ID. that token is required to reset your password.
Select your QuickBooks product on the tool with the help fo the Drop-Down menu.
Choose the same product that one you were installed in your system.
Now choose the company file that you want to reset the password.
Keep in mind you need to select the correct company file and the correct Admin user name that you want the reset password.
Now enter your new password and confirm Password.
Click on the reset button to completely reset your password.
Now you can easily access your company fie with the help of a new generated password. The token you will receive on your email that uses for only one time. If you want to reset your password again then again generate a token by providing the details on the website
How to determine which version of QuickBooks is being used
Search for the product version & launch numbers, after that select the product from the list and check the model & release facts and follow some instructions.
QuickBooks Statement Writer: In QuickBooks, select report and QuickBooks statement writer.
After this system opens, select help then selects about QuickBooks statement Writers. Model facts can be found in the about window.
Point Of Sale: select help > Product facts. There, you will find a version or release records.
QuickBooks basic Or Enhanced Payroll: Select Employees > Payroll facilities. Click Payroll Tab.
QuickBooks For Mac: choose help > Product data.
QuickBooks Desktop: Press F2 to open the Product records Window.
It is crucial for you to have net Framework 4.5 installed to get the Password Reset device. Choose the QuickBooks desktop version you last up to date to open your Quickbooks organization file.
From the QuickBooks version, choose your version of QuickBooks desktop.
Fill in the QuickBooks license number & business data used when registering QuickBooks, then click Submit.
After that accept the license agreement & click the download button.
On the next screen, click the Download Now link.
It's important to make sure that after it asks you to access or save, save it on your desktop.
Enter the token number you got through email within the Token number field.
Then choose your QuickBooks model on the QuickBooks products drop-down menu.
Click on Browse for company document & choose the company file which you need to reset the password.
Then click Reset Password.
I hope after reading this post will understand everything about Quickbooks automated password reset tool for QuickBooks Desktop and understand how you can download install and use it.
Didn't find your solution?
Don't get stressed out? We are here for help. Find a QuickBooks ProAdvisor or CPAs who can help you get rid of your problem. Dial our toll-free number.