QuickBooks Workforce is usually known as My Paychecks, is an online platform where an employee can access their paychecks using their own credentials. This service allows employers to share paycheck information online with their employees. The employee just has to send an invitation to receive an email of paychecks links. Let us see how to quickly set up this service for you and your employees.
Save Time & Effort
Get help from expert
Get your accounting work done by experienced accountants. Fix all your accounting software errors & problems. Dial our toll-free number +1-877-355-0435.
Working of QuickBooks Workforce
Through QuickBooks Workforce you can easily and securely view and manage your paychecks, W-2s, and pay stubs online. It is an online platform compatible with with any version of Intuit's QuickBooks 2009 or newer. You can simply begin using QuickBooks Workforce by logging in with your QuickBooks credential if you already use QuickBooks payroll and accounting services.
Workforce integrates with Desktop versions through the QuickBooks Desktop's Payroll Cloud Services. After updating QuickBooks, you can begin inviting your employees for using workforce services. QuickBooks Online Payroll also allows employers to access this workforce's services.
How to Set up QuickBooks Workforce account
Let us now learn how you can set up your account in QuickBooks Workforce. Here are a few steps you need to follow:
Step 1: Accept the Invitation from your Employer
First of all, you need to accept the Workforce invite from your employer before viewing your paychecks or W-2s. The invitation link is valid up to 30 days.
Search for an email with the subject line: [Business name] has invited you to view your pay stubs online. Check your spam folder if you don't see any email.
After opening the account, accept the invitation by clicking on Create account or Sign in.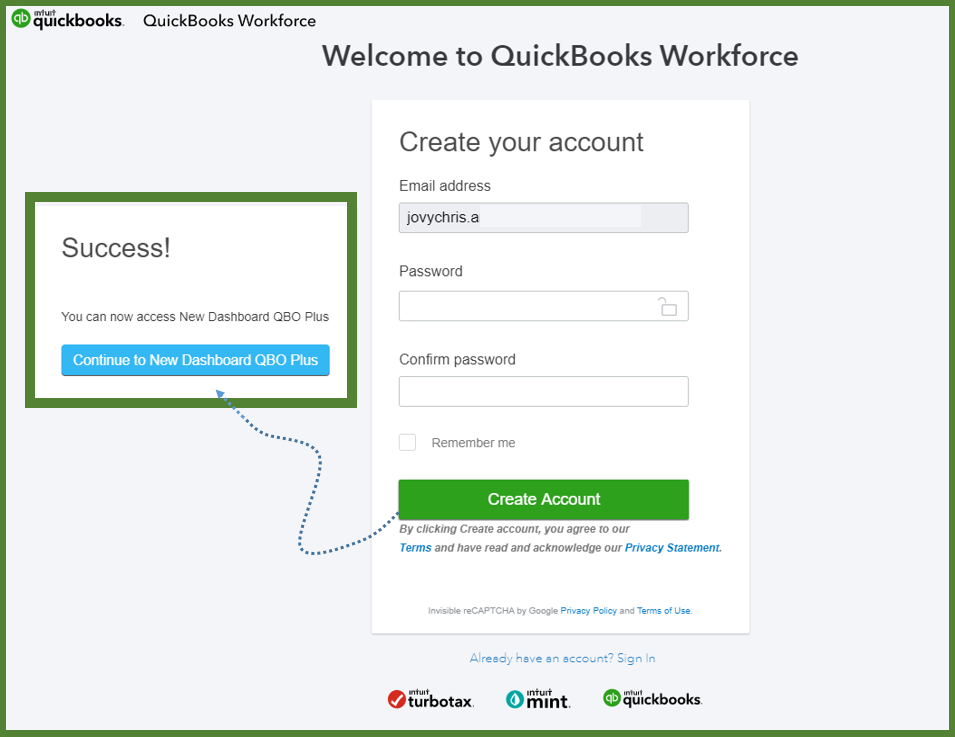 Now you can create your Intuit account with your email and password. Sign in with other email id and password if you are already having an Intuit account.
Step 2: Fill your Personal Information
In case if you have been recently hired, you may need to add some personal details.
Open the email and select Get set up or Complete setup now.
Fill all the complete information such as W-4, personal, and bank account. Bank account will appear if you have selected to pay through direct deposit.
Now, sign in your W-4 after making sure that all the information is correctly filled.
Select Submit or Save.
Step 3: Turn on Notifications
For new pay stubs you can turn on the notifications to get email reminders. For setting up this features, follow the below step.
Go to workforce.intuit.com
Click on Settings ⚙.
Select Email Notification.
Select Send me an email when new pay stubs are available.
Step 4: View your information in Workforce
After setting up your QuickBooks Workforce account, now you can easily see your paystubs, W-2s, and personal information.
How to View Paychecks and W-2s in QuickBooks Workforce
After getting the invite and setting up your account, you can now view your W-2s, paychecks, and other employment information such as bank account info and home address. Learn how to see your information in Workforce.
Getting Pay Stubs
See how you can view and download your pay stubs here:
Create your Workforce account and sign into workforce.intuit.com.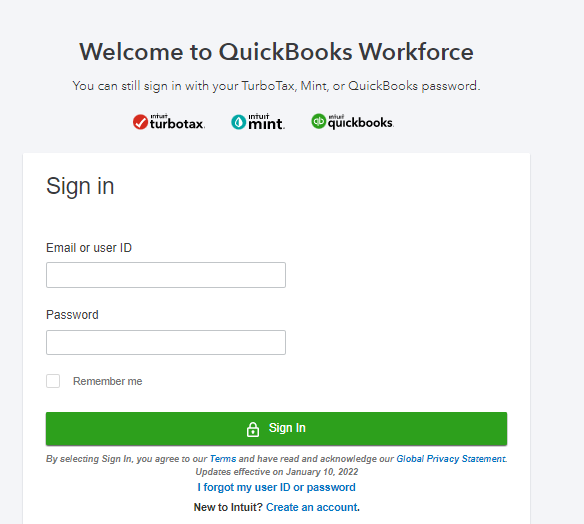 Choose Paychecks and appropriate date range.
Select the paycheck you want to download and click on Download button.
Select the pay stubs to view, open, download, or print.
You can download your pay stubs all al once by clicking Download all option.
View your Time Off, Year-To-Date Pay and Personal Info
Your paychecks screen will show you the following information:
Available time off: you can check your vacation, sick, and other available time off balances.
Year to date: year-to-date gross and net pay, withholding, and deductions.
For viewing your tax, bank, and personal information select Profile.
See your W-2s
Here you might need to add and verify your personal info first in order to view you W-2 copies B, C, and 2 from the W-2 screen.
First of all go to the W-2 menu.
Then select the W-2 copy that you wish to view or download.
How to Invite Employees To View Paychecks in QuickBooks Workforce
Learn how you can invite employees to view paychecks in QuickBooks Workforce in both Intuit Online Payroll, and QuickBooks Online Payroll.
View Paychecks in Intuit Online Payroll
In recent times the Intuit Online payroll is using the QuickBooks Workforce to view paychecks, before that, the feature of paycheck record was doing this work. Now follow the steps to invite employees to view paycheck:
In the first step, you need to open the Intuit Online Payroll.
After visiting on your Intuit Online Payroll site go for the 'Employees' tab, and choose the employee's name whom you want to invite.
Open the 'Employees Site Access' section, and click on the 'Edit' option.
Now in the 'Online Pay Stubs Access' window, you need to enter the employee's email ID with QuickBooks Workforce.
Tick mark the 'Access their pay stubs online' box and send the email.
Now your employee will receive an email, through which he/she can view the paycheck.
View Paychecks in QuickBooks Online Payroll
To process this method, first you need to make sure that, you have the full credential of admin. Because in QuickBooks Online payroll, the only admin can send invitations to employees. Secondly, if a user of QuickBooks Online (employee) has no workforce account then, he/she can create an account for him/her through the invitation link sent by the admin.
Visit for the 'Workers' section, and choose the 'Employees' option.
After that, click on the 'Add an Employee' option.
Click the 'Edit' button, if you want to edit the existing employee information.
Now enter the QuickBooks Workforce registered email ID of the employee, whom you have selected to send invitation.
Then, go to the 'Invite this employee to view their paycheck and W-2s Online' box to mark it and then done.
You can also follow the below steps to setup Intuit Viewmypaycheck, and to send invitations:
Open your Quickbooks software and login to your account
Then you have to go to the Company menu and select My Company.
Then you will see Manage your Account button click on it to visit Quickbooks
Provide your user id and password
Then you will see the Employee menu dropdown, click on it, and select manage payroll cloud service.
Click on the status change button for chang status as ON under Quickbooks workforce.
Now you have to select an employee whom you want to send an invitation to the employee.
Now add the email address of the new employee.
Then you have to click on the Send invitation button.
Some Common Questions Asked by Users
Most of the users, those who already know about the QuickBooks Workforce, have some common queries or have doubts in their minds. Here in this section, we have provided some of the answers to the common question which is asked by the QuickBooks users. Have a look, you may get an idea, or may clear your doubt through this section.
Query 1: What to do, when a user already sent an invite to his or her employee, but the employee is not able to find it?
Solution: You can check it through 3 simple procedures, and these are:
Open the employee mail ID, and check the spam or junk files.
Ensure the email address is correct. But remember that, if you are a QuickBooks Online user, and your employees have access then, ensure that, your employees use a different mail ID for the Workforce account, which he/she is used to sign in to QuickBooks Online.
Otherwise, resend the invitation again
Query 2: Can an employee use the QuickBooks Workforce, after the cancellation of Payroll Service?
Solution: Well, the answer is yes. An employee can use the QuickBooks Workforce for 12 months after the cancellation of the payroll service. After 12 months an employee will not be able to use the Workforce account. So it is your responsibility to aware them to print their documents for their own records. But it is only applicable for the QuickBooks Online Payroll user not for the QuickBooks Desktop Payroll user. The QuickBooks Desktop Payroll user will lose their access immediately after the cancellation of the payroll service.
Query 3: If a user switched from one payroll service to another, can an employee see his pay stubs in QuickBooks Workforce?
Solution: Yes the employees can see their pay stub in QuickBooks Workforce in the original payroll service. In the new account, they will not be able to see their pay stubs. You need to invite your employees for the new account, or for the new service.
For QuickBooks Online payroll users, users can see their pay stubs after the cancellation of the payroll service.
For QuickBooks Desktop payroll users, the users can't see their pay stubs after the cancellation of payroll service in Workforce.
Query 4: The employees are not able to see their W-2 form in QuickBooks Workforce.
Solution: It totally depends on your payroll service, generally, on January 1, W-2S are not available immediately in QuickBooks. It is available automatically in QuickBooks on 15 January.
QuickBooks Online Payroll: If the 'Allow employees to import W-2 data into TurboTax' is disabled, then your employees will not be able to see the W-2 S in the workforce. To enable it, follow the procedure;

Go to the 'Setting' tab, and select the 'Payroll Settings' option.
After that, in the titled section, go to the 'Shared Data', and click on the 'Edit' option.
Now check the box to enable it, 'Allow employees to import W-2 data into TurboTax'.

QuickBooks Desktop Payroll: You have to upload the W-2S forms at the time to submit them. Check the 'Provide employees with secure …..TurboTax' to submit the W-2S.
Set up you Workforce account at zero cost if your are an existing QuickBooks payroll services users. Enjoy the most secure way to access sensitive employee information like their W-2 forms and pay stubs. Feel free to talk to our experts at our toll free number +1-877-355-0435 for any queries.
Didn't find your solution?
Don't get stressed out? We are here for help. Find a QuickBooks ProAdvisor or CPAs who can help you get rid of your problem. Dial our toll-free number.