Today technology has grown so much that most of the work can be done online. No one needs to visit the center to pay the bill for a single intel. It is very much fast and safe. Reviewing, Receiving, Organizing, and paying your bills all can be done with the help of PayTrust online bill-paying software service
When you want to visit the center to pay your bill, you have to sign your cheque, stamping the paper, and then you have to pay the bill.
With the help of Paytrust, you can easily pay your bills online. It will reduce your time and you can avoid late payments.
Features of PayTrust
The Security of PayTrust is very much secure because it provides a password-protected bill center. And it also provides the experience of customer compilation. Some of the features are mentioned below.
PayTrust can combine both paper and electronic bills. So that the customer can get all the updates of all the electronic bills and do not miss anything.
Get full control: you have the full authority to manage your bills and to set up a payment, or recurring payments rule.
Easy and Quick Payment: It helps you to make your payment fast and it is very much easy for the user to do a payment.
Banks related to PayTrust: There are multiple banks that are related to PayTrust. You can use any bank to do an online payment. It gives you the authority to manage more than one bank to do the payments.
It keeps track of your records: All the bills that have been received or paid online, with the help of PayTrust. They can be saved online for a year and offline are saved for 8 months. You can buy a CD-ROM of your past year's bill image at the end of every year. You can also export them in Microsoft Money, Excel, or Quicken.
It helps you to avoid your due date.
You can easily track the status of your financial transaction.
For small businesses, PayTrust has become a lifesaver. It offers them a Small Business Edition.
Other Recommended Articles:

QuickBooks Tool Hub (Download & Install to Fix Common Errors)
QuickBooks Certification Cost – How Much Does it Cost?
How to Set Up Direct Deposit for Employees in QuickBooks Desktop
How you can log in to PayTrust
First of all, you have to visit the paytrust.quicken.com.
It will give you access so that you can simply pay and track your bills.
When you will Log in with the help of paytrust.quicken.com. The company offers you a different type of deal so that you can save your money.
PayTrustgives you a simple way to pay and track the status of your bills so that you can save time. It helps you to eliminate paper bills, scanning and emailing.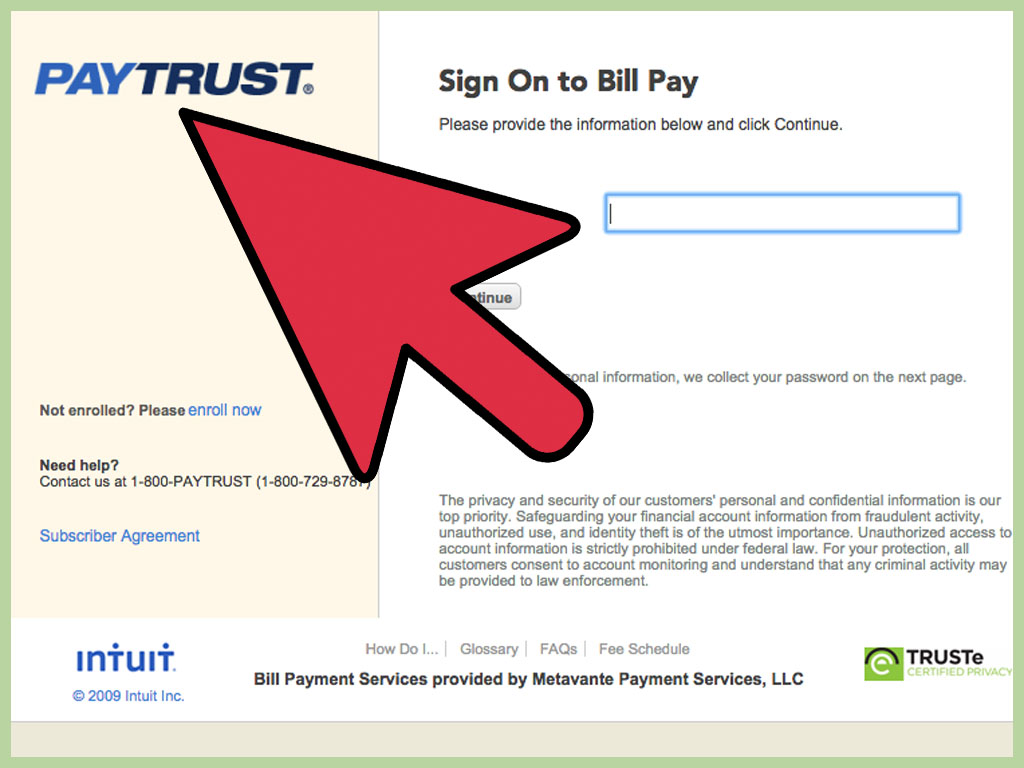 Steps followed to Login PayTrust
First of all, you have to Log on to the PayTrust website.
After that, it will redirect you to the Homepage of the PayTrust website. Then you will get the User Id there and you have to press the continue button.
After that, you have to go to the Next page. And then enter the password of the PayTrust and then Log in.
| | | | |
| --- | --- | --- | --- |
| | Paying Bills By Hand | Traditional Web Bill Pay | PayTrust |
| Receives all the Paper and Electronic Bills | — | — | √ |
| Convert all the scanned Paper Bill into the Electronic ones | — | — | √ |
| Accept E-Bills | √ | √ | √ |
| Shown detail Bill of yours | √ | — | √ |
| Set the standard to Pay your Bills | — | √ | √ |
| Set the Payments Rule | — | — | √ |
| Multiples banks are available to do a payments | — | — | √ |
| Eliminate the envelopes, stamps, and checks | — | √ | √ |
| Reminds the Not Receiving Bills | — | — | √ |
| Alert notification for the late payment, payment confirmation | — | √ | √ |
| It doesn't matter you change your bank but the destination will be the same | — | — | √ |
| You'll find your money comes out of the account the day the bill is paid, not sent | √ | — | √ |
| If any fault of services it will cover the late charges | — | √ | √ |
| Summary of all the pending and paid bills | — | √ | √ |
| All the bills of your are saved and organized | — | — | √ |
Review of the PayTrust online bill-paying Services
PayTrust takes care of your bills with proper online services. It eliminates all the paperwork from your bills and saves your time so that you can focus on your other work. You can integrate with QuickBooks Accounting Software also so that you can track the status of your financial transaction.
It receives your paper bills and then uploads them into your account which you have created. It gives you an alert notification so that you should not miss the late bill. It sends you the notification whenever you pay the bill or not.
All the bills have been posted online as well as offline. So that you can easily view your bills even when you leave the website.
Conclusion
As we all know that today everyone is trying to serve online services. In this article, we talked about PayTrust an all in one online bill payment solution. Its features will help you to pay your online bills. In case you find any problem you can contact our QuickBooks ProAdvisor Expert. They will help you and provide you with the best solution regarding your concern.