QuickBooks Online Essentials is the advanced version of QuickBooks Online Simple Start that comes with some additional features. Here we will know, what types of features are available in the Online Essentials version, its pricing, system requirements, etc.
Save Time & Effort
Get help from expert
Get your accounting work done by experienced accountants. Fix all your accounting software errors & problems. Dial our toll-free number +1-844-405-0904.
It allows users to track income and expenses, manage accounts receivable, and stay on top of accounts payable. And it can connect with your accountant and makes it easy to pay taxes. The Online Essentials allows up to 3 users to access it. Let's know more features;
Other Recommended Articles:

Which Software Is Right for You in Xero vs. QuickBooks online?
How to setup QuickBooks For Restaurant
QuickBooks Shipping Manager for QuickBooks Online
Features of QuickBooks Online Essentials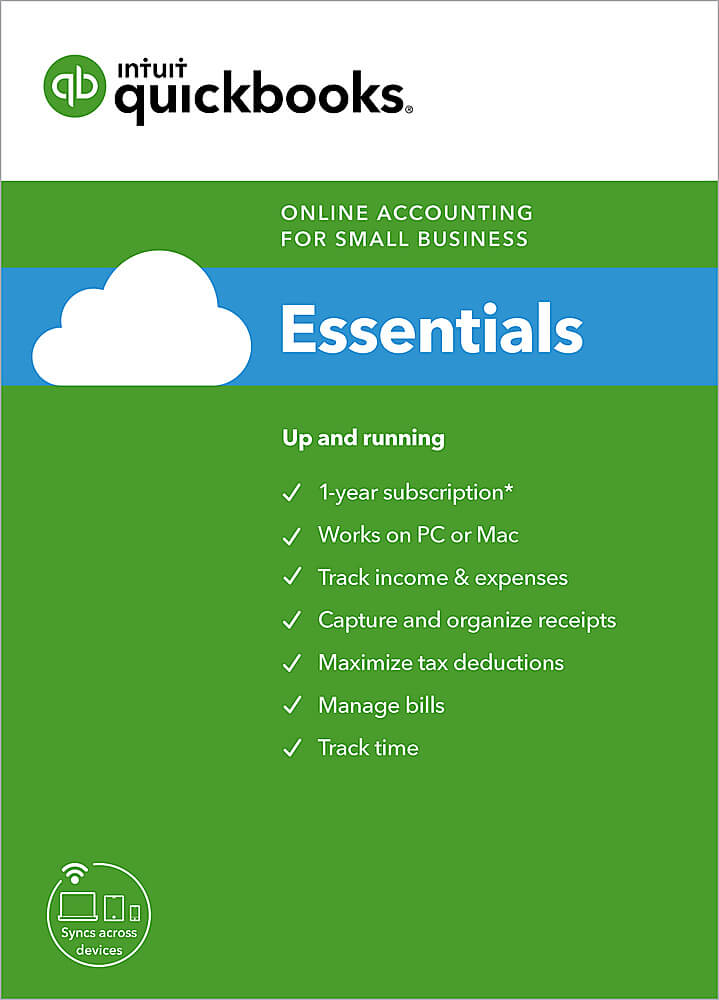 There are some of the new features of QuickBooks Online Essentials are given below.
Track Income and Expenses
It can easily import transactions from your credit cards, bank, PayPal, Square accounts and sort your transactions into tax categories automatically. The QuickBooks Online Essentials creates custom tags and arranged them into up to 40 tag groups to see where you make and spend money. It can email or upload receipts to QuickBooks.
Capture and Arrange Receipts
It creates new expenses receipts and matches your receipts to existing expenses. Also, it can easily upload or email receipts to QuickBooks. QuickBooks can shortlist your receipts into tax categories.
Bills Management
The user can manage bills in one place and schedule and pay bills online in QuickBooks. It allows choosing the way to pay your vendors like pay online through bank transfer or debit card, or defer payments through credit card.
Detailed Reports
The user can track inventory, profitability, enhanced sales, expenses reports, profit & loss, and balance sheets. You can choose different templates to build and customize reports according to your business need.
Track Sales and Sales Tax
The QuickBooks Online Essentials helps you to calculate taxes automatically through your invoices and connecting to the e-commerce tools like Shopify. You can accept credit cards anywhere with the mobile card reader or sync with popular apps.
Includes 3 Users
The QuickBooks Online Essentials includes up to 3 users. It helps you to protect sensitive data and share reports without sharing a sign-in.
Time Tracking
The Online Essentials enters the hour itself or gives access to employees to enter their hour. The QuickBooks Online Essentials helps you to track billable hours by client or employee and add them automatically to invoices.
Miles Tracking
The QuickBooks Online Essentials allows you to use your mobile GPS to easily track the miles you drive, and track personal and business trips.
Send Estimates
It allows you to categorize your business estimates to see the latest performance of your business. In QuickBooks Online Essentials, you can accept mobile signatures and convert estimates into invoices and track payments easily.
Maximize Tax Deductions
The user can arrange income and expenses into tax categories and automatically shortlisted business expenses into the right tax categories.
Manage 1099 Contractors
You can prepare the 1099s file from QuickBooks and assign vendor payments to 1099 categories. In QuickBooks Online Essentials, the user can see who they have paid, what, and when they did it.
Invoice and Accept Payments
The QuickBooks Online Essentials permits you to accept all credit cards and bank transfers. Also, you can track invoice status, and match payments, send payment reminders to invoices automatically. It helps users to create professional custom invoices.
Pricing
The QuickBooks Online Essentials version allows up to 3 users and the price is $25/Month. If you buy a 3-month subscription, you have to pay only 50%.
System Requirements
If you are trying to use QuickBooks Online Essentials for your business, then you should know the system requirements for this. Here are some system requirements before using QuickBooks Online Essentials.
Operating Systems should be like Microsoft Windows 7 or 10, Mac OSX 10.7 or later, latest Chrome OS.
You need a high-speed internet connection.
Supported browsers are Chrome 34 or later, Firefox 29 or later, Internet Explorer 10 or later, Safari 6.1 or later.
It is accessible via mobile browsers like Android, Chrome (Android and iOS) & Safari.
A data plan is necessary. (All features are not available on mobile apps).
You can use the QuickBooks Online mobile application on iPhone, iPad, Android phones, Android tablets.
The mobile access has been included with your QuickBooks Online subscription at no additional cost.
It was all about the QuickBooks Online Essentials. Hope you find it informative, and now you have an idea about its features, pricing, and system requirements. You can contact our QuickBooks experts through this number +1-844-405-0904 for further detail.
Didn't find your solution?
Don't get stressed out? We are here for help. Find a QuickBooks ProAdvisor or CPAs who can help you get rid of your problem. Dial our toll-free number.