In QuickBooks Enterprise ODBC driver, ODBC means Open Database Connectivity driver. This allows to communicate with a different program, And it also provides an exchange of information between each other. ODBC driver for QuickBooks Enterprise allows accessing the company files by using third-party applications like- Microsoft Excel, Microsoft Access, Crystal Reports, File maker, Alpha, QlikView, etc. Through this application, you can also create a custom report.
With the help of an ODBC driver you can easily create a spreadsheet in Microsoft Excel, access the table, and also create the report in Crystal Reports Which shows your real-time company file. You can also use this feature to create your company report, combining data from multiple company files, personalizing invoices, creating mail merges and more. The QuickBooks ODBC driver makes capable to work with QuickBooks desktop data outside the QuickBooks interface.
Through this driver tool, you can access QuickBooks data, like a database – read, write, and update customers, transactions, invoices, sales receipts, etc.
NOTE:-This QuickBooks enterprise ODBC driver gives the best opportunity to work with Structured Query Language (SQL) tables with QuickBooks objects. Through this Structured Query Language(SQL) you can write queries and easily create the table, insert, or delete, etc.
Also, You can use all the benefits of SQL functions such as- Complex JOINs, Aggregation functions, WHERE conditions, Subqueries, GROUP statements, ORDER statements, etc. And this Odbc Driver allows using DML operations of Structured Query Language (SQL).
To Install QuickBooks Enterprise ODBC Driver
First of all, open QuickBooks then Go to the File and select Utilities.
After that Go to the Setup ODBC a click on it, then download and install the ODBC driver.
After Completed download then goes to the download page.
Then Be sure to read the "Readme" file during installation That file contains some latest QODBC setup information, new features, and other driver information about the settings.
After that save your document folder to extract as your convenience and execute.
And this QODBC.exe  extension file saves in the temporary directory.
How to Run QB ODBC Driver
First of all open the QuickBooks software then Go to the File and select Utilities.
After that Go to the Setup ODBC a click on it.
Then Go to the General tab.

After open this tab select Use the Company file and open in QuickBooks option.
Then Go to the  Data Source Name, And enter the QuickBooks Data.
After that Click on the Test Connection to QuickBooks button.
Note:- You must be signed in to your company file as an "administrator" to be able to successfully run a test connection.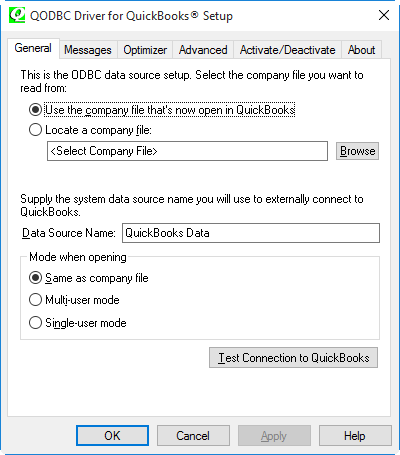 If you see the message Test Connection to QuickBooks Successful appears, Then click on the OK button.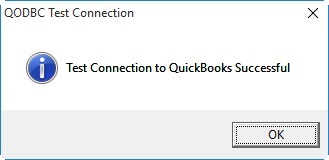 After completing the work of this General tab, then Go the Message tab.

After open, this tab Go to the Detail Tracing and click on the clear trace log option.
Select the Display Optimizer Status, and Display Driver Status checkboxes.
then select the Display Driver Status, To check the details of what QODBC is working on, this step is Optional.
Then press the Apply button.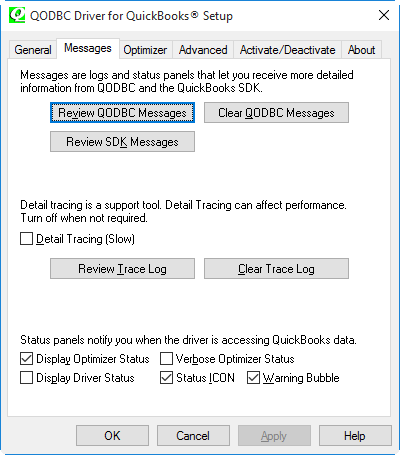 After that Go to the Optimizer tab.

After open, this tab Selects the Use Optimizer box.
Then Go to the Optimizer Database Folder And Enter the Default Optimizer file path, which is (%AppData%\QODBC Driver for QuickBooks\Optimizer). This path is suggested by the QuickBooks.
After that Select, The start of every query then clicks on the Apply option.
Note:- Initial optimization time may depend on the file size. Mainly it takes 24 hours. The more transactions are done, the longer it will take. Once completed this process, data connections with QuickBooks will run faster.
After completing the work of this Optimizer tab, you can Go to the Advanced tab but In this tab Selected defaults in advanced settings that apply to most users and do not need to change these settings.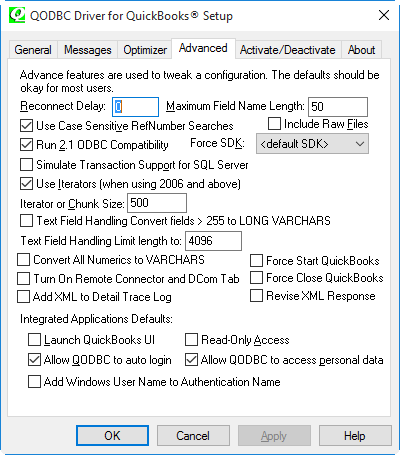 After that click on the OK button to exit the ODBC Driver setup.
If you are interested to install and run QuickBooks Enterprise ODBC driver In your system. So by following the steps given, you can easily install and run an ODBC drive in QuickBooks Enterprise.
Didn't find your solution?
Don't get stressed out? We are here for help. Find a QuickBooks ProAdvisor or CPAs who can help you get rid of your problem. Dial our toll-free number.