Posted by:
Category:

Quickbooks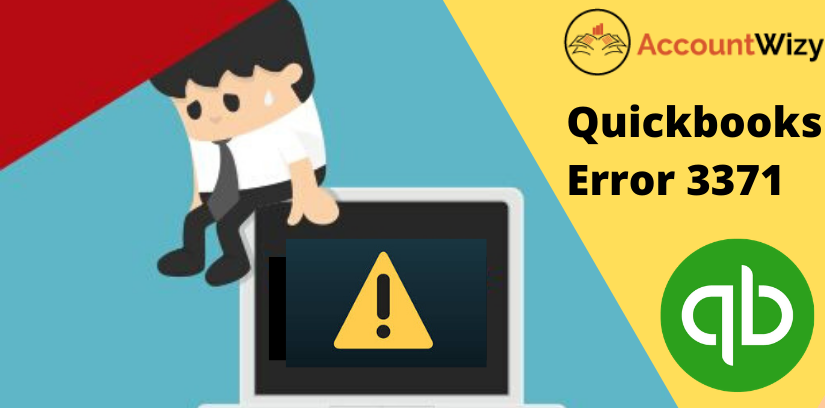 Are you also worry to resolve QuickBooks error 3371? Then don't worry, we can understand your problem. Do you want to know how we can understand? Just a few days ago my friend also faced error 3371. That day he was really upset and thought about how to fix this problem then he has followed some expert's solution to resolve this error and get the best result in a short time. If you also want to fix error 3371 in QuickBooks. So let's know about its causes then follow some steps to resolve the error.
When you open the QuickBooks Desktop app or activate the accounting software product for the first time in Windows or macOS, you see a QuickBooks error 3371 status code 11118 or certain error messages popping up on your computer screen. There are messages displayed, such as:
License properties can't be initialized.[Error 3371]
QuickBooks fail to load the license data.
License properties can't be initialized.[Error 3371, StatusCode – 11118]
QuickBooks fail to load the license data.
License properties can't be initialized.[Error 3371, StatusCode – 1]
QuickBooks fail to load the license data.
Intuit, however, makes it compulsory for users to have their QuickBooks license information on the hard drive. But, if that file or license information becomes corrupt, damaged, or perhaps, goes missing, then you may encounter QuickBooks error 3371 Status Code 11118.
QuickBooks Error 3371 Status Code 11118 – Causes & Symptoms
QuickBooks error 3371 status code 11118 is a common error in QuickBooks. It gives you a message related to contains the licensed property in your Quickbooks Desktop or repair damaged QB file and other causes and symptoms such as:
Some needed files are missing or damage such as QBregistration.dat  and MSXML component. These files are important to allowing QuickBooks to open and QB desktop retrieves the info.
Antivirus software that affects QB desktop files.
Run outdated windows then QB desktop installation failed or become damaged.
The .qbo file importing by you without save then you can't open this file.
License information becomes corrupt, damaged, or perhaps, goes missing.
Steps to fix Quickbooks Error 3371
Step-(A)The first check,  you are using the latest updated window or not. if not then install updated window
To Install the latest updated window:
Click on the Window option.
Then, select all programs and choose Window Update option.
After completing the installation, install your QuickBooks program.
Now check, this first solution fixes QB error then doesn't follow the next steps.
Step-(B) [Error 3371, StatusCode – 11118] QuickBooks failed to load the license data. Missing or damaged files are the main reason behind this error.]- Resolve QuickBooks error 3371 by below steps-
However, when you click the OK button, it displays another dialogue box. This dialogue box shows the QuickBooks Fatal Error message:
QuickBooks has confronted a problem on startup. It may be because of an invalid software license. Do insert the QuickBooks CD into your system and then install the software again.
At this point, when you click on the OK button, it will simply close the message box.
Then run QuickBooks tool hub- download and save it on desktop and follow on-screen steps.
The issue may also occur during the cloning of the data, which is usually from the C:/ drive to another hard drive location on your computer. Therefore, in such a situation, you must delete your QuickBooks entitlement file and follow on-screen instructions. You will also need to re-enter your license information in order to resolve the problem.
This solution fixes error 3371 in QuickBooks then don't follow other steps.
Step-(C) Rename your Entitlement file
By pressing Win + R on your keyboard, open the Run box.
Type (or copy and paste) C: ProgramDataIntuitEntitlement Clientv8 and press the OK button. This will automatically open the directory window.
Locate and delete the EntitlementDataStore.ECML file, then close the window.
Now, open QuickBooks and register the product again.
If this method does not resolve your problem then follow step-D.
Step-(D) Fix QB error 3371 when you install QB Desktop
First, close your QuickBooks software.
Then, Download QuickBooks Tool Hub to fix it.
After then, save this hub file on window desktop with .exe extension.
Now, open the QB tool hup file and follow the on-screen instructions.
After installing with agree to terms and conditions, click twice to open the QB tool hub.
Click on the Quickbooks Tool hub option.
Select Installation Issues then run QuickBooks Install Diagnostic Tool. it will take 15 to 20minutes to complete fix error.
 At last, Restart your Computer to continue your accounting work.
With the above-mentioned steps, you can easily fix Quickbooks error 3371, and understand what is error 3371 and what are the causes behind error code 3371. But due to any reason if you are unable to fix error code 3371 and need assistance and help then you can hire a Quickbooks Proadvisor, they will fix your problem or error for you.