Last Updated on by Editor Team
Here in the blog, you will be able to know 'How to Activate Intuit ViewMyPaycheck ?' If you have any interest to know about this topic, then stay with us, and read the blog, to activate ViewMyPaycheck in Intuit for QuickBooks successfully.
Save Time & Effort
Get help from expert
Get your accounting work done by experienced accountants. Fix all your accounting software errors & problems. Dial our toll-free number +1-877-715-0222.
Intuit ViewMyPaycheck has reduced the load for employers as well as employees. Employers no longer have to send payroll information to employees individually, they can simply update it on QuickBooks online payroll and the employees can access it with their Intuit username and password. To know more about ViewMyPaycheck and how to enable ViewMyPaycheck for QuickBooks online follow through the guide.
Steps to Activate Intuit ViewMyPaycheck
Here are the methods to turn on or activate ViewMyPaycheck in Intuit and to manage the payroll information through ViewMyPaycheck. So have a look;
Turn on or Activate ViewMyPaycheck in Intuit :
First of all, visit the 'Employees' tab.
After that, select the 'Manage Payroll Cloud Services' option from the 'Employees' tab.
There may be confusion in the 'Employees' tab if you have not in the latest release version or payroll update.
Then in the 'ViewMyPaycheck' box, marked it or checked it.
Now you will be prompted to create service PIN, create a payroll service PIN to use when you send pay stub information to Intuit, and confirm it by re-entering PIN.
After that, save all the changes by clicking on the 'Save Changes' option.
In exceptional cases, you will be directly prompt for the confirmation of existing PIN, if you already have a payroll service PIN for direct deposit or assisted payroll.
Send Payroll Information to ViewMyPaycheck:
Sending of payroll information is very simple to perform in QuickBooks, after activating of the ViewMyPaycheck in Intuit, QuickBooks can easily send the payroll information to the employees.
First of all, you have to create paychecks as usual do normally.
Then click on the 'Send to Intuit' option on the confirmation and next steps screen, in addition to printing checks.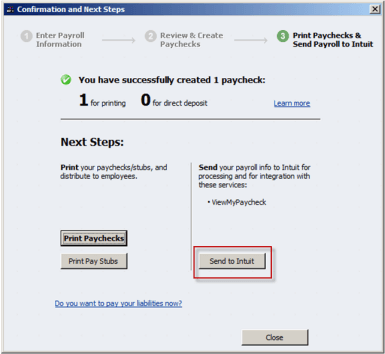 After that, click the 'Send' option, from the 'Send/Receive Data' window.
Now enter the payroll service PIN, when prompted.
If in case, you forget to select the Send to Intuit button, you can go through another way to send payroll information.
Click on the 'Employees' tab and select the 'Send Payroll to Intuit' option.
Inform your Employees for the ViewMyPaycheck
After sending paycheck information, inform your employees by sending the site address (paychecks.intuit.com).
After visiting this site, inform your employee to sign in to the Intuit account ID, and password.
If anyone of the employee has no Intuit account then create for a new account or go for the ViewMypaycheck sign up through the above-mentioned link.
For the ViewMyPaycheck sign up process:
Put your mail address, password.
Then answer the question for security reasons.
Now enter your SSN (social security number), and then the net pay amount.
Then click on the 'All Done!' option.
Now follow the onscreen instructions.
Send the 'W-2s to ViewPayCheck' for the employees:
Create W2 form in QuickBooks for employees.
Now you can click on the 'Submit Form' option, after confirming the checked for the correct any errors.
From the 'Print/E-file Form window, make sure that you have checked in the checkbox 'Provide employees with secure, online access to their W-2 forms….'.
Then choose any one option 'Print' or 'E-file Federal Forms'.
All the employees can get their w-2 information automatically through the QuickBooks.
An employee can view his or her W2 information through ViewMyPaycheck login.
Conclusion
In this article, we learned that, 'How to activate Intuit ViewMyPaycheck?'. Hope you like it, and it will beneficial for you, just perform the steps carefully, and activate the ViewMyPaycheck and manage the payroll information in QuickBooks successfully. You can call us through the toll-free number +1-877-715-0222 if you have any kind of issues related to this topic, or the blog, from our Accountwizy platform.
Didn't find your solution?
Don't get stressed out? We are here for help. Find a QuickBooks ProAdvisor or CPAs who can help you get rid of your problem. Dial our toll-free number.