Last Updated on by Editorial Staff
An Undo Reconciliation service in available to Quickbooks Online accounting software, Quickbooks Online accountant or Quickbooks desktop. If you use any version or software of Intuit Quickbooks or have a question How to undo reconciliation in QuickBooks Online, Desktop or accountant software. Then don't worry, we will make you understand.
By following the steps mentioned below you can easily understand how you can undo reconciliation in Quickbooks Online, Desktop or Accountant in a step by step manner. But let us first understand what does reconciling lets you do.
Save Time & Effort
Get help from expert
Get your accounting work done by experienced accountants. Fix all your accounting software errors & problems. Dial our toll-free number +1-877-715-0222.
Reconciling your accounts in QuickBooks lets you:
Quickly spot fluctuations in income and respond accordingly.
Take quick, informed and decisive actions when you see financial opportunities or possible signs of danger.
Catch unseen bank errors that could cost you money, like a wrong total for deposit with multiple checks.
Prevention of possible fraud by employees, accounting professionals or vendors.
Undo Reconciliation in QuickBooks
We will show you how to delete a reconciliation in the QuickBooks Online Accountant (QBOA) version. The QuickBooks Online Accountant gives you the ability to easily undo reconciliation without the need for manually editing individual transactions from within the register.
Some users may want to undo bank reconciliation records in QuickBooks because of one or more reasons, which are given below:
The payment was recorded for an incorrect date.
A transaction was properly checked off but later was found that it had not been cleared yet.
The bank reconciliation was forced and now needs to be corrected in a systematic way.
The bank statement date was entered incorrectly or does not contain an actual date.
Steps to undo reconciliation in QuickBooks Online Accountant (QBOA)
Here are the steps to undo reconciliation in QuickBooks Online Accountant, but, before that you have to download the attachments that you want to tied to the reconciliation. You will delete these attachments during the undo process. Let's go for the process:
In the first step, go for the QuickBooks Online Accountant, and signed into it.
After signing into the QuickBooks Online Accountant, visit to the 'Clients' list.
Then find the customer and open the QuickBooks Online account.
Now you can see that, you will be taken to your customers company file.
Here go for the 'Accounting' menu, and then select on the 'Reconcile' tab.
From the 'Reconcile' tab choose the 'History by account' option.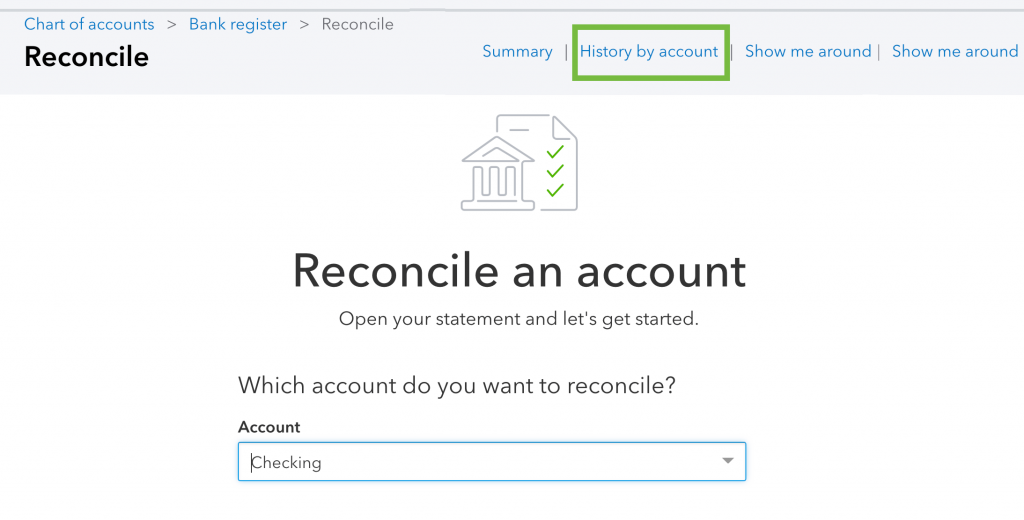 In the next step, choose the account that you need to reconcile and date range from the list.
From the drop-down list find the reconciliation.
Open the reconciliation report and click on the 'View Report' option, if you haven't already done it.
Then review any one discrepancies and make a change your client wants to make.
Now in the 'Action' column, select the arrow option, and then the 'Undo'.
At last, click on the 'Yes' option and then click on the 'Undo' option to confirm it.
That's it! The reconciliation is now undone.
NOTE: Please be aware that undoing a reconciliation automatically reverses any reconciliation that comes after it chronologically, based on the Reconciled on the date.
How to delete reconciliation in QuickBooks Online Edition?
The QuickBooks Online edition reconciles transactions separately and must be reconciled one at a time. Let us show you how this can be done easily.
You can undo reconciliation in QuickBooks Online edition through the steps given below:
Open QuickBooks Online and choose Registers from the Banking menu.
Select the account from the Register Name drop-down list.
Click (or tap if using the touch screen) on the transaction you wish to undo reconciliation for.
Delete the 'R' letter at the top of the transaction in order to change its rank to Unreconciled.
In case you plan to reconcile each transaction for a certain period, it is necessary that you first print a list of reconciled transactions using the Reconcile alternative from the Banking menu.
How to undo last reconciliation in QuickBooks Desktop Edition?
Undoing last reconciliation in QuickBooks Desktop App edition such as QuickBooks Pro or Premier is somewhat different. Thus, if you use any of these QuickBooks editions, we will show you how you can undo last reconciliation in a few simple steps, which are given as under:
Open QuickBooks and sign in as an Accountant user.
Select the company file and click Reconcile Now from the Banking menu.
Click the Undo Last Reconciliation option.
Let's understand how to undo reconciliation in QuickBooks in detail…
Above we discussed How to undo reconciliation in QuickBooks Online, Accountant or Desktop. We hope after reading and following above-mentioned step by step process you will be able to undo reconciliation.
Didn't find your solution?
Don't get stressed out? We are here for help. Find a QuickBooks ProAdvisor or CPAs who can help you get rid of your problem. Dial our toll-free number.