January 3, 2020
Posted by:

Olivia

Category:

Uncategorized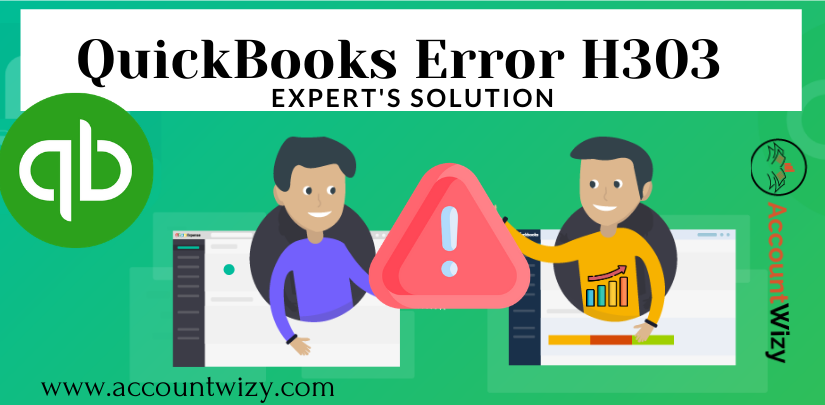 (Last Updated On: February 15, 2020)
Are you finding a way to resolve QuickBooks Error H303? Don't worry, here you will get the best solution to resolve your QuickBooks error. This QB error indicates you that some company file of QuickBooks needs an additional configuration that is located in your computer. So without getting stress to let's know its causes and procedure to solve this error Quickly.
As you know, QuickBooks allows many users to access it and while operating QuickBooks software by many users for the same result then some results missing or software fail to access the company file. This condition is a big reason for QuickBooks h505, h303, h101 series errors these are quite common errors display on your computer screen.
Causes and Symptoms of QuickBooks error code H303
The blocked communication process of QB files by Firewall.
Computer network slow to access the file,
Some incorrect settings in internet hosting configuration.
Unable server to communicate with QB.
Wrong setting of DNS and damage QB.nd files.
Because of the above reasons, QuickBooks error H303 message comes as a pop-up and you can't access your QuickBooks company file. so now need to overcome this error and Quickly fix it.
QuickBooks Error Code H303 – Solution
There would be some causes in your computer such as networking issue, domain names issue and many. So first you should check the solution and follow one by one step to solve QuickBooks error h303. When you follow the first solution and this error would be fixed then don't try the next solution. If the First solution is not working properly then move on the next steps.
Solution (A) – Check QuickBooks setting
To check the QB setting is correct or not for multi-user mode.
First, Open QB accounting software
Then, go to Multi-user-mode On.
Now select company files on both desktops and click on Files.
After that, Select stop hosting configuration on multiuser.
Now, turn on multi-user-mode in that computer where you want to do work.
At last, Restart your QB software on computers.
Solution (B)- Create a new folder
Change the QB folder location to resolve this error.
Create a new folder in your hosting computer.
Then Copy QB.qbw file.
Now paste it in a new folder and access it in multi-user mode.
Solution (C)- Check File setting
First, click on the control panel.
Then, go to the firewall setting and select Allow programs.
Click on Add QuickBooks latest version.
After it, Restart your computer to fix error H303.
if you still see error H303, move on to the next solution(D).
Solution (E)- Check Domain name issues
Check QuickBooks company configured to open the file using a Full Qualified Domain Name.
It contains the alphabetic name of the computer on the network like (compname.domain.com).
And check your computer's numeric name(IP 198.23.56.66).
Then, make sure your server's name and the computer network is using numeric names instead of alpha names.
Now check for the result, error h303 has fixed or not. If the answer is yes then don't follow other steps.
Solution (D)- Use the QuickBooks Tool hub
While using QuickBooks, users face QB error and solve it QuickBooks file doctor and QuickBooks tool hub. So by using tool hub fix QuickBooks error H303
Download QuickBooks Tool Hub to resolve QuickBooks error h303.
Install and Save this hub tool on the desktop.
Run this file doctor and click on  Multi-user hosting error.
Follow instructions and wait for few minutes to fix this error.
When you are working with QuickBooks in multi-user mode rarely you may be facing this error and during this error, you are not able to access your QuickBooks file and data. Its means some component or files are missing that stop application to access additional files. After following this above information helped you to resolve QuickBooks error h303. We hope our expert's solution helps to fix QuickBooks errors. You can visit here any time to solve any QuickBooks problem.