QuickBooks File Doctor: Fix Damaged QuickBooks Company File
April 5, 2019
Posted by:

Editor Team

Category:

QuickBooks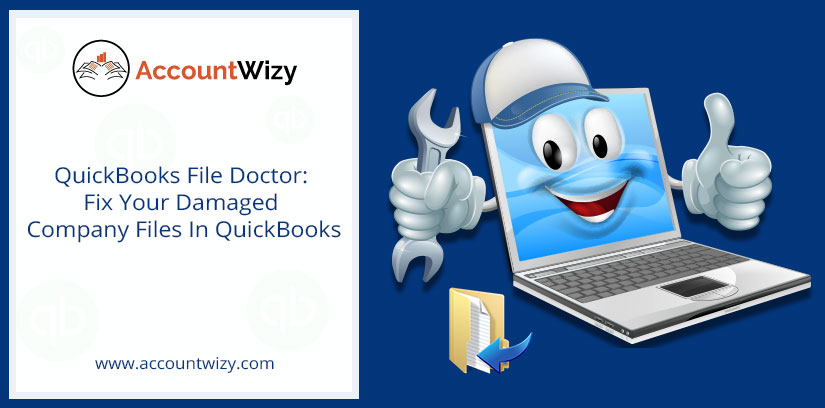 Okay! Let's start with a real-life example. Tell me! What you do whenever you are injured or when something is broken in your body. You immediately call the doctor and take medication to repair them. Just like your doctor, Intuit introduced QuickBooks File Doctor in 2012. It was specially designed for QuickBooks accounting software users in order to resolve common Networking and Company file corruption or other errors.
All the bugs and errors are, particularly, clubbed and a remedy is made for them by the name of QuickBooks File Doctor. However, prior to introducing the tool to QuickBooks users, two different programs were also introduced to solve any QuickBooks error at one go. The tools were called the QB Company File Diagnostic (QBCFD) tool and QB Network Connectivity Diagnostic (QBNCD) tool, respectively.
Intuit, therefore, combined both these tools into one utility program, which is now called the QuickBooks Desktop File Doctor (QBDFD). This utility program tool now comes in-built with QuickBooks 2014 R5 and later versions. However, the tool is only useful in solving problems related to QuickBooks company files that are highly damaged or corrupt, or when you are getting error codes like 6000, etc. Other than this, QuickBooks install diagnostic tool also gives you full-proof solutions to fix the errors that occur during the QuickBooks software installation process.
What is QuickBooks Desktop File Doctor (QBDFD)?
QuickBooks Desktop File Doctor is one step ahead version of the QuickBooks Connection Diagnostic Tool. This QuickBooks component repair tool is made with an objective to provide you instant solutions to solve errors that can erupt to the user.
QBDFD is one of the most important and easy components of the troubleshooting steps that are used when your company files are destroyed or unresponded due to some reasons. But this tool is applicable for the UK and US QuickBooks versions only. You can use this doctor tool on Windows operating system only. It is not at all compatible with QuickBooks for Mac.
QuickBooks file doctor – Functions
It helps to repair the corrupted QuickBooks data file.
Resolves all errors of the 6000 series.
Recovers missing or blank lists properly.
A process to use QuickBooks File Doctor
.QBFD file cannot resolve all issues and QuickBooks errors.
Before using the application you need to download it just like QuickBooks download before using it. Install the QB File Doctor in order to run the QBFD file on your PC.
Once it gets installed, ensure the system has.Net Framework without which the file won't get installed on your system.
Follow the installation process for the appropriate installation.
Click the installed application two times to launch it and follow the steps mentioned below.
The company file that you want to repair, start browsing it in PC. After browsing, select the Diagnose File.
Now carefully type your Username and Password.
Keep patience until and unless the entire QuickBooks Diagnose process completes.
You will receive a prompt message asking you to select the Server or Workstation.
The application will automatically diagnose and repair the company file.
After the file is repaired you need to go back and try to open the corrupt file once again. You may seek the help of the QuickBooks Help team by dialing our QuickBooks online support number if you are not sure about its functioning.
 Issues where you need QuickBooks File Doctor
You are unable to open your company file and an error message occurs on your screen displaying error codes such as error-6000 -82, error-6000 -301, error-6000 -305, error-6123, error-6130, error-6147, error-6150 and so on.
When you encounter H101, H202, H303 or H505 error while opening QuickBooks software over a network.
Your QuickBooks company file is severely damaged but allows you to open the sample company files.
You are unable to see, or the list for your employees, vendors or customers is missing or blank.
You are trying to access the QB company file (having extensions .QBW and .QBA) which is stored in another system.
You encounter other types of severely damaged company files in QuickBooks.
Majority of the issues with connectivity that occur with the connection of your network.
Issues when you try for QuickBooks update.
Damage to the core data of your files.
Software installation errors.
The bad configuration of the settings of your Firewall port.
No access to the QuickBooks Database Server Manager.
Your list of employees has contracted a bug.
Errors could arise in QuickBook's multi-user environments.
QuickBooks Desktop file doctor download (in Windows)
Head over to the website [URL link] if you want to download the QuickBooks Desktop File Doctor on your computer system. 

Save the QBDFD.exe file on the default location at the download prompt.

As soon as the download is completed, open the QBDFD.exe file by double-clicking on it, or right-clicking and then select Open.

Now what will happen is the QuickBooks Desktop File Doctor installation wizard will begin. Read the on-screen instructions to install the programming tool on your PC.

If the .NET framework is absent in your machine, the QBDFD tool will automatically download and install this framework on your system. 

You have to keep patience until and unless the complete installation is done.
After successful installation, double-click the QuickBooks Desktop File Doctor shortcut icon on your desktop to launch the programming tool.
Disadvantages of QuickBooks File Doctor Tool
Though QuickBooks Doctor tool is beneficial for QuickBooks users yet it has many cons also. Let's discuss them!
You will need the administrator credentials to gain access to it.
The space that your company file takes should not be more than 2GB of data.
Your internet should run with good speed without giving trouble regarding any connectivity issues.
In case you have more than one QuickBooks version loaded into your system, this tool may cause malfunctioning in the system. We would like to suggest a method of usage to make sure that only a singular installation of QuickBooks exists on your PC.
In order to avoid QB file doctor malfunctioning, be sure that your QuickBooks accounting software has been completely updated with the older versions available on your system.
Why is QuickBooks File Doctor not working?
Causes of QuickBooks File Doctor Error:
Invalid access to the incorporated files.
Made an effort to restore files but it is not successful.
When the old version of the company files is tried to get converted over a network.
It can occur during the installation phase when you miss out on a few QuickBooks files.
It displays in case of damaged, misplaced and corrupted files also.
Follow the solutions to fix the QuickBooks File Doctor error:
● First, click on the start button and then click on the chrome browser.
● Now, search for query QuickBooks Doctor Download. After that, go in the file utilities & then click on either the repaired file or network issues.
● Then, a dialog box will appear where you need to click on OK. It will restart the applications along with the administrator rights.
● Click on the wrench icon in order to open the QBFD tool. Now click on use continue.
● Type all the credentials of your user if you want to sign-into your file. It will activate this tool to start working on to repair your company files.
● Select the file diagnosis option from advanced settings.
● Open your company file when you see the prompts on your system's screen. Now in order to repair the files or network issues, run the QB file doctor tool.
If this method is inappropriate to resolve the file or network issues and you are looking for help then feel free to dial our QuickBooks Phone Number. Our QuickBooks ProAdvisers will always offer you essential information.
Conclusion
Analyzing the state of your company file including its size as well as what is the difficulty level of your error to diagnose, could take time from a few minutes to an hour. During this time, the QB file doctor should have the ability to easily resolve the issues arise with the connectivity of your company file.