Last Updated on by Editorial Staff
Quickbooks file doctor tool is a part of Quickbooks tool hub. As we all know Quickbooks tool hub has six tools that help you to resolve your Quickbooks error. Such as company file issue, Network Issue, Program Problems, Installation Issue, and password reset Tool. And when you face any company file issue, then you have to use the Quickbooks file doctor tool which exists inside the Company file issues.
So whenever if you are unable to access company files, that do not exist in their current computer system – but exist in other connected network PC. Then you need to run the Quickbooks file doctor tool. So that you can resolve your Quickbooks company files related issues. While if you face Quickbooks error 600 series. Then you need to use the Network issue tab. See below the image of Quickbooks tool hub.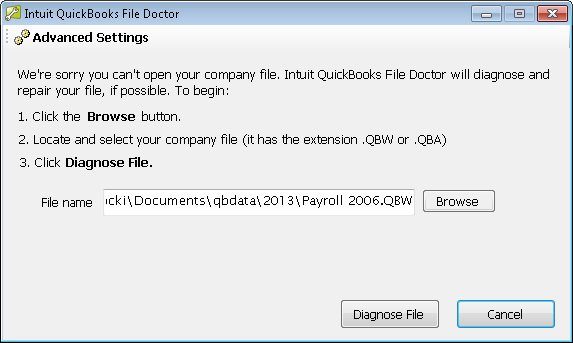 Functions of QuickBooks file doctor
While working with QuickBooks, usually you face many errors such as damaged company files, networking error, and many errors. Then you search for the solution to fix QuickBooks error. Don't worry, because of this QuickBooks file doctor comes with standard functions to repairs your damaged company file and fixes many types of QB error.
For example:
Its standard function helps to repair the corrupted QuickBooks data file.
Resolves all errors of the Quickbooks error 6000 series.
Recovers missing data or blank lists properly.
QuickBooks remote Access your QuickBooks company File from one system to another system.
Network issues in accessing multi-user setup error.
Fix networking error and QuickBooks error H202, H101, H102, H103, and many.
Repair your company files by using the QB file doctor.
How to download QuickBooks file doctor
To download the QB file doctor first close your QuickBooks software.
Then download and install the QuickBooks Tool Hub.
Save tool hub file with extension .exe on desktop.
After that, continue to follow on-screen steps to install.
Then, agree to its terms and conditions.
Now you have downloaded your QB tool hub.
Note: Once it gets installed, Make sure the system has letest.Net Framework. Because without .Net framework you can't use Quickbooks tool hub.
How to run Quickbooks File doctor?
To run the QuickBooks file doctor tool, here we have provided two methods for easy understanding of users. Read and examine the procedures and follow that process which will be easy for you.
After the complete download and install of QuickBooks Tool Hub go to the company file issues tab, and click on it.
Then select the 'QuickBooks File Doctor' from the company file issues tab.
Wait for a couple of time, it will open automatically.
If in case, file doctor tool is not opening on the screen then you can search for the QuickBooks Desktop File Doc and can open it manually.
After the launch of the 'QuickBooks File Doctor' Tool, select the company file from the drop-down list.
You can also go for the 'Browser and Search', option to find your file, if you are unable to see the company file.
Then click on the 'Check your file' option, and then on the 'Continue' option.
In the next step enter the QuickBooks admin Password, and click on the 'Next' option.
Then the scanning process will be started automatically, it may take some time to finish the process according to the company file and will also resolve the issue that you have faced in the company file.
After the complete scanning process, you can open the QuickBooks again and can go to that file where you found the issue.
Here was the first procedure to run the tool through the tool hub, hope you like it. And here is the second procedure in the below, that will also help you to run the tool manually.
After installing Quickbooks tool hub you have to click on the Start button from the taskbar.
Then click on Quickbooks Tool hub
And then click on the Company File tab.
Now Select your company file by the Browser button, (which file has Quickbooks errors.)
And then you will see Quickbooks file doctor Button click on it to run the tool.
And click on check file damage option and click on OK
If your file is protected then it will ask the user name and password. Then you have to provide login credentials to use the company file.
Then next window will open and ask you to open the company file in an older version of QB or Repair the file for your existing version. Click on the Repair file for the existing version then click on Next Button.
Wait for the process completed, then it will ask you to which version you want to open the company file. The select version from the dropdown menu.
Finally, click on Open Quickbooks button
It will directly open your Quickbooks company file in the selected Quickbooks version.
Note: Keep patience until and unless the entire QuickBooks Diagnose process completes.
Conclusion
As you have seen Quickbooks file doctor tool is part of Quickbooks tool hub. So don't confuse between Quickbooks file doctor & Quickbooks tool hub. Because Intuit has developed a Quickbooks file doctor by combining two separate tools Quickbooks company file repair tool and QB network tool. And now in 2020 Quickbooks has provided all the tools in a single software called Quickbooks tool hub.
So if you have any issue in your Quickbooks software. Then you can download Quickbooks tool hub and use file doctor tool along with many other tools.
Didn't find your solution?
Don't get stressed out? We are here for help. Find a QuickBooks ProAdvisor or CPAs who can help you get rid of your problem. Dial our toll-free number.