QuickBooks Remote Access
January 14, 2019
Posted by:

Editor Team

Category:

QuickBooks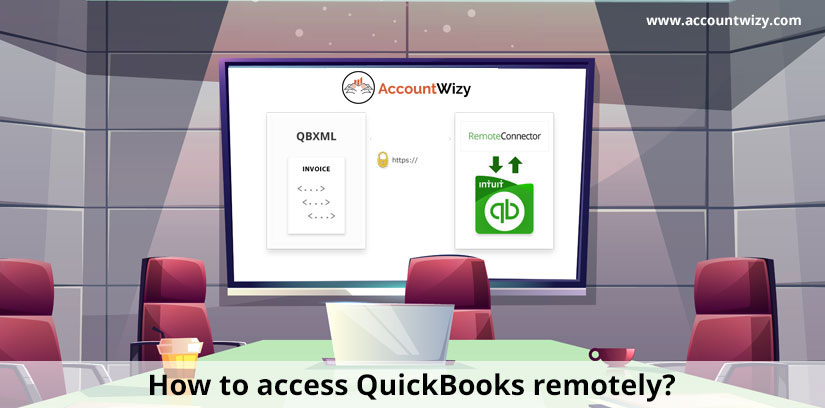 QuickBooks accounting software is one of the well known intuit tax software used for accounting, finance and business management. It has a variety of features which fulfill the different accounting needs of different users. Intuit QuickBooks adds more value to UI to make accounting much easier for users. In this article, we are going to discuss how to access QuickBooks remotely.
For all these amazing reasons, it directs about 85-90% of the accounting market for small and mid-sized businesses in the USA. Most of the time, a common question arises- how to access QuickBooks remotely. Don't worry today you will get its perfect answer from this article.
QuickBooks Remote Access: Define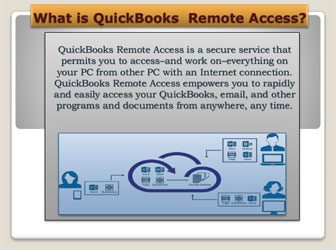 QuickBooks Remote Access is a secure QuickBooks server through which users can access and work on one PC from any other computer system using an Internet connection. It performs the QuickBooks multi-user activity. You can quickly and easily access your QuickBooks, email, and other programs from anywhere, anytime with the help of Remote Access service of QB accounting software. You can transfer a file or folder from one computer to others. You can do Printing tasks from your remote PC to a local printer.
QuickBooks Remote Access: Benefits
With the feature of remote accessibility of Intuit QuickBooks, users will be able to gain several benefits that can add value to their business operations.
These are:
You can transfer a file or a whole folder between computers.
It can save your traveling time and infrastructure cost of office for accountants.
You need to do only copy and paste between the remote system and your local PC.
You can print documents easily from your remote PC to a local printer.
Client or managers can keep track of all the activities of the accountants.
Different users can link on the same QuickBooks file.
The tool gets connected to the remote machine where the QB desktop is installed.
QuickBooks Remote Access: Cost of Accessing
QuickBooks Remote Access is not free Intuit software. You have to pay for it. It is available in two versions.
Full Desktop Access ($7.75/month)
QuickBooks Access ($3.95/month)
You can make use of a third party QuickBooks remote access software from the market. It works similarly like QB Remote Access tool.
QuickBooks Remote Access: Steps & Procedure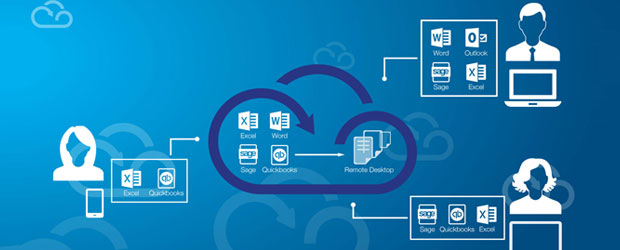 At first, sign up for QuickBooks Remote Access in the Intuit website.
The second step is to log into your account on the QuickBooks Remote Access website. Just before login, You need to launch a Web browser on the computer. This is useful and important because it is the browser from where you need to remotely access QuickBooks.
Click on Setup computer for downloading the remote access tool installation file.
Enter a computer nickname in the "Nickname" field. Click on "Next".
Now put a checkmark next to the options in order to initiate every time you log into a remote session.
It's time to place a check-mark next to the applications for accessing QuickBooks data remotely on this computer. Access only your QuickBooks accounts for a minimal monthly fee. Then click on the "Next" button.
Look at the box for the authentication option to use. Either you can enter a passcode or use a phone number too. You can enter the passcode on the login page using the passcode option. The phone number option needs the tool to call you. It then prompts you for the access code every time. At last, click on the "Finish" button.
These steps will make you access the QuickBooks remotely. In case of any problem or difficulty in bookkeeping services, you can directly talk to our QuickBooks ProAdvisor.
QuickBooks Remote Hosting: Security
Security always plays an important role in accounting activities. Whatever accounting activities are performed by the business owner, they always require a security check for both offline operations and digital ones. Security questions are always bound to rise during QuickBooks remote access.
If you are going with the QuickBooks cloud hosting solutions, QuickBooks Online or QuickBooks Hosting, the security is a reliable factor to consider. Most of the providers practice 256-bit encryption. The encryption level with QuickBooks Online and QuickBooks Remote Access tool are almost similar.
However, if you are making use of other remote access tools, then the security concerns definitely arise on the abilities of these tools. So, better to choose for the recognized solution and stay safe.
QuickBooks Remote Access: Two solutions
Traditional Remote Screen: Many Remote Screen tools are available for QuickBooks bookkeeping software. It includes the discontinued Remote Access service from Intuit. Some tools like LogMeIn, R-HUB or TeamViewer are used.
Make a remote connection to the screen of the computer which is running remote QuickBooks. When connected properly, the image streams from the computer across and user interactions are sent back.
Enhanced Remote Access/Remote Desktop: You are logged into a user running in the background of the system that you want to access with the help of QuickBooks Remote Desktop. Therefore, one person can work on the computer with QuickBooks on it, and at the same time, someone else can log in as a new, standard user in the background.
A remote desktop user can take benefit of the Enhanced Remote Access using these added features:
Workspace Session
Desktop Mode
Application Mode
Final Thoughts
It is clearly visible that there are multiple ways that you can use to configure Quickbooks accounting software for remote access. The methods discussed here will give you the ability to quickly access your files from any location using an Internet connection. This way you do not have to be tied to a desktop every time.